All-American Cream Puffs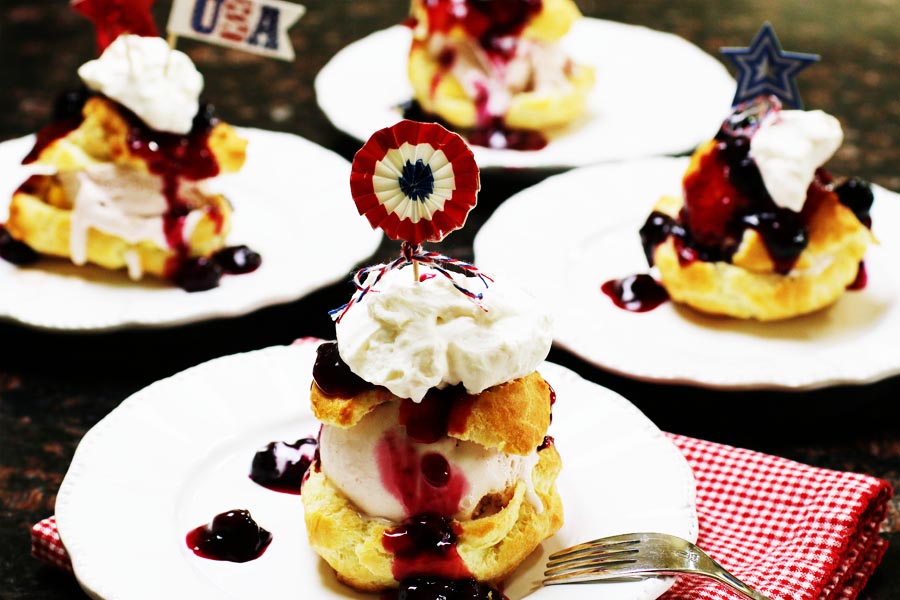 It's time to celebrate the blast off of summer with All-American Cream Puffs, our flag waving party time finish!
In France our glorious puffs would be called profiteroles, but in the USA they are cream puffs.
Bake them up, slice off the top third,  fill with frosty scoops of ice cream or sorbet, add the tops, drizzle with fresh blueberry sauce, add a dollop of whipped cream, and finally bedazzle with old glory.
It's a patriotic dessert that's well suited for all your summer parties, and this political year, well into November!!!
"Food is symbolic of love when words are inadequate."
Choux paste for cream puffs, is one of the first desserts I remember making as a girl.  They puff up so fun in the oven and are easy to make.  You can swirl the dough from a pastry bag, but I love the rustic shapes that result from using a spoon.
Heat oven to 400ºF.
In 2½-quart saucepan, heat water and butter to rolling boil. Stir in flour; reduce heat to low. Stir vigorously over low heat about 1 minute or until mixture forms a ball; remove from heat. Beat in eggs, all at once; continue beating until smooth.
On a parchment covered baking sheet, drop dough by slightly less than ¼ cupfuls about 3 inches apart. Bake 35 to 40 minutes or until puffed and golden.
Cool away from draft, about 30 minutes.
While the puffs are baking make fresh blueberry sauce and set aside to cool.  Make a batch of Stabilized Whipped Cream  and chill in the refrigerator until ready to use.  If you have some US Flag picks, they add to the fun!
To assemble All-American Cream Puffs:  
Cut off top third of each puff.  Fill cream puffs with a scoop of ice cream; replace tops.  Drizzle with blueberry sauce.  Top with a dollop of whipped cream.  Garnish with an American flag and serve immediately.