Cheesy Au Gratin Potatoes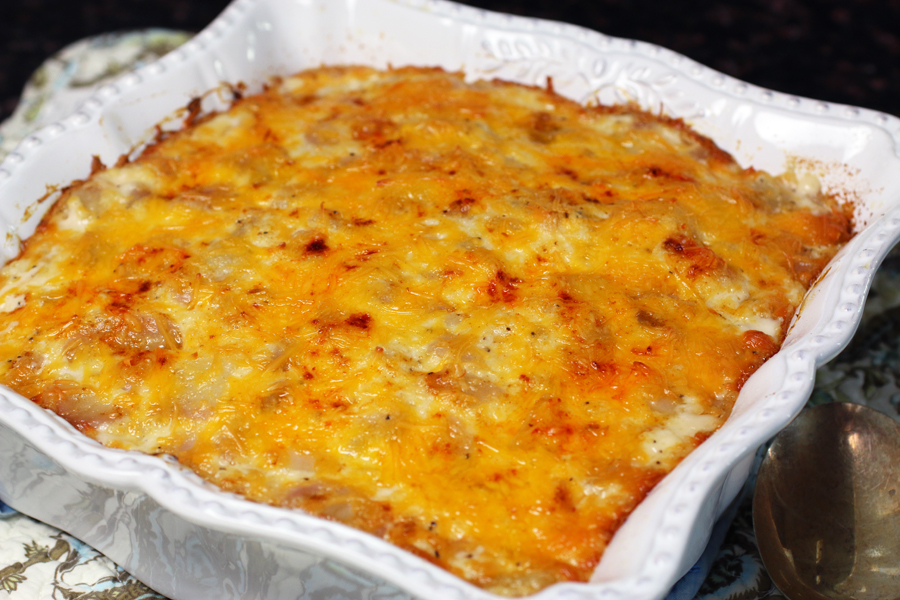 What comfort food takes you back home?  In my top 5 are my Mom's Cheesy Au Gratin Potatoes.  They are always welcome at our dinner table, and they're so simple to make.  Cheesy Au Gratin potatoes are a perfect complement to ham, pork, chicken, beef, and other entrees.
They can be made 2 ways, with thinly sliced raw potatoes or precooked potatoes.  Mom always cooked her potatoes first, then peeled and sliced them.  Next she would carefully add creamy Béchamel Sauce along with chopped sautéd onions, celery, and green peppers with lots of melty cheese!
I make mine plain, potatoes, sauce, and cheese, (as pictured) often. We also adore them, "Loaded UP," with green onions, red or green peppers, celery, bacon, and sour cream.  The directions for both ways are included in the full recipe for you.
As Easter is approaching I especially remember always having Cheesy Au Gratin Potatoes on Mom's buffet line up.  With my family I added Curried Fruit Bake because it's so flavorful and pretty next to baked ham and potatoes.  Add a fresh vegetable, some hot rolls, and a yummy dessert for a lovely memorable meal.
Cheesy Au Gratin Potatoes
Are you wondering what the term "Au Gratin," means?  Interestingly, it's anything covered with bread crumbs or cheese and then baked until brown.  So for this dish, we are using potatoes, but let your mind go wild and think of all the au gratin designer dishes you can make!
Begin by boiling 3 pounds of potatoes, using your favorite variety, for approximately 30 minutes to 1 hour.  It takes longer at higher elevations and the size of your potatoes makes a difference too.  Just wash them and cover with water.  Bring them to a boil, cover and turn heat to low-to medium heat so that they are gently simmering.  Your potatoes need to be firm, not mushy, so check on them till they are ready.
Remove cooked potatoes from the pan, cool till you can handle them without burning your hands, peel, and cube or slice them into a large mixing bowl.  Add the Béchamel Sauce, (I prepare mine while the potatoes are cooling), and 1 cup of cheddar cheese and carefully mix it together, trying not to break or mash your potatoes.  Scoop the potatoes into a 3 quart baking dish and sprinkle with remaining 1/2 cup of cheese.  Sprinkle with paprika and cover and refrigerate if you are making ahead. Be sure to bring your potatoes to room temperature before placing them in the oven.
When you are ready to bake Cheesy Au Gratin Potatoes, preheat your oven to 350˚degrees.  Bake uncovered for 45 minutes or until cheese is lightly browned.  Serve immediately and enjoy!