Curried Rice Pilaf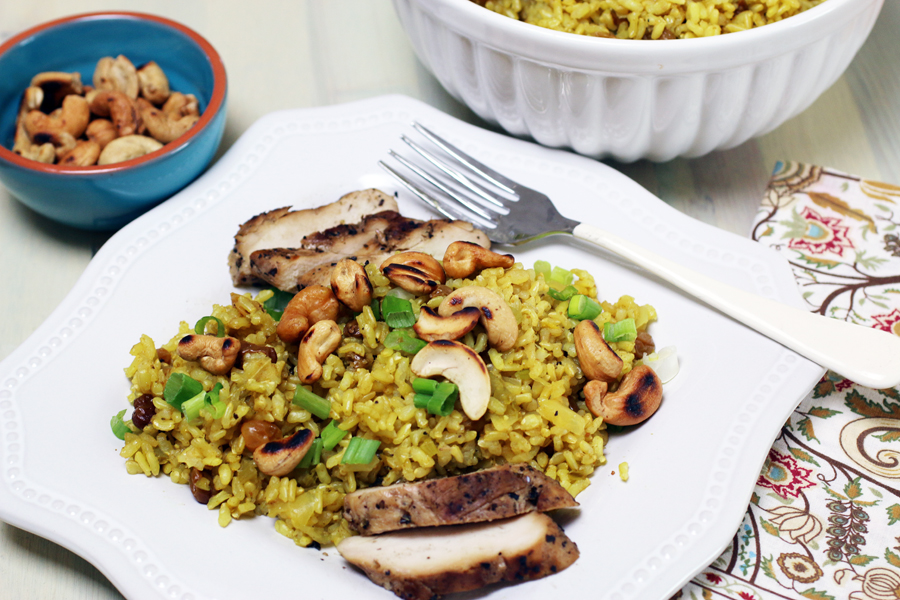 Swaagat
Hey that means, "Welcome," in Hindi.  We are so pleased you are here!
Like it or not, Indian food is filled with exotic complex flavors!  Forget about 3 or 4 ingredient dishes, most average at least 7.  I adore how Indian dishes build flavor upon flavor.  Curried Rice Pilaf holds it's own with roasted vegetables, grilled chicken or kabobs, or topped with a delicious sauce. You'll find it's simple, has 13 ingredients including sliced green onions, toasted cashews, and will add a splash of bright color to your plate.
My family loves Curry Rice Pilaf, filled with onions, celery, curry powder, and garlic.  It's a delicious place to start on your road to trying other kinds of pilaf dishes.  I used a brown jasmine rice and it was surprisingly good, but white jasmine or basmati rice are great too.  As we lovingly work to create memories in our kitchens for those we cherish, here's one to cheer you on!
"One of my earliest childhood memories is the sweet smell of basmati rice cooking in our family kitchen. The aroma still brings back the feel of the sun, the chirping of green parrots…the feel of my mother's sari, and the touch of my grandfather's beard–in short, whenever I am, it brings back my childhood in Delhi" ~ Madhur Jaffery
To make your Curried Rice Pilaf, in a medium saucepan, heat the butter and cook onion, celery, curry powder, and garlic until tender. Add rice, pepper, and chicken stock. Stir it well. Bring to a boil, cover and reduce the heat. Simmer for 15 minutes or until the rice is tender.
While the rice is cooking, roast cashew nuts. In a heavy bottomed skillet, spread your nuts out in an even layer and heat over medium, shaking often – don't overcrowd your nuts. Keep stirring or shaking for about 5 minutes, or until nuts are fragrant and browned.
Fold in the raisins and green onions and season, to taste, with salt and pepper. Place a towel over the saucepan and top with the lid.  Let is rest for 10 minutes.  To serve, garnish with whole roasted cashew nuts.