French Béchamel Sauce (White Sauces)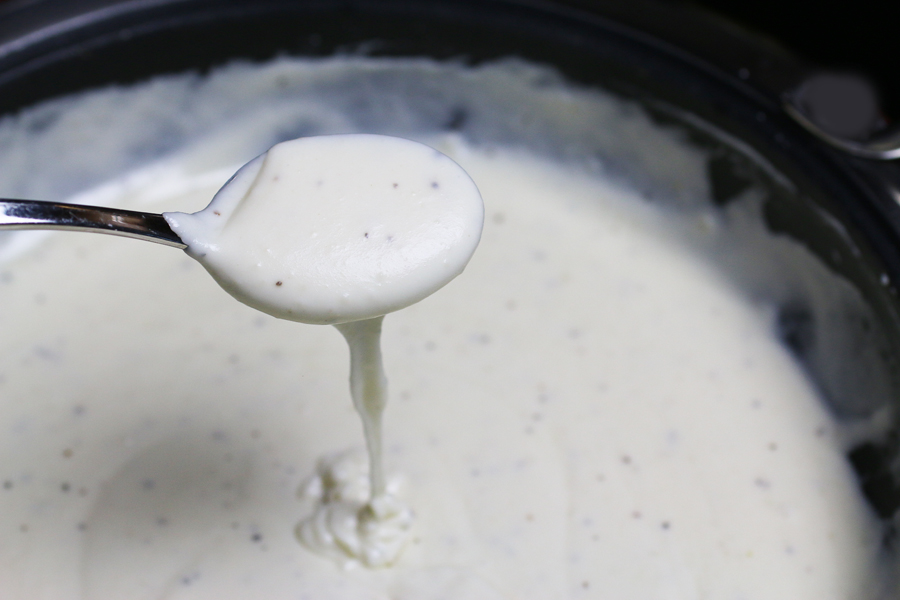 Bienvenue!
Raise you hand if you remember making your first Béchamel Sauce or it's cousin, Velouté Sauce in your home economics class!
Both are considered sauces méres, (mother sauces) because so many other sauces are derived from them.  They sound really fancy, but they belong to the family of white sauces because they are made with milk or cream, (for béchamel), or white stock, (for velouté).  They are not identical, but are often used interchangeably.
Are you aware of how many dishes you can make with béchamel sauce?  Allow me to go back to my 7th grade Home EC class. Our teacher had us make a very basic white sauce and we added hard boiled eggs to it and served it over toast, Eggs Ala Goldenrod.  It sure wasn't my thing, but the other 3 kids in my kitchen absolutely loved it!  I remember going home and telling my Mom about what we made.  She simplified it for me, "You made Creamed Eggs over Toast."  I have since used this Cheery Basic countless times, and you will too.
"That fellow Béchamel has all the luck!  I was serving breast of chicken á la crème more than 20 years before he was born, but I have never had the chance of giving my name to even the most modest sauce."
~ Duke of Escars, 17th century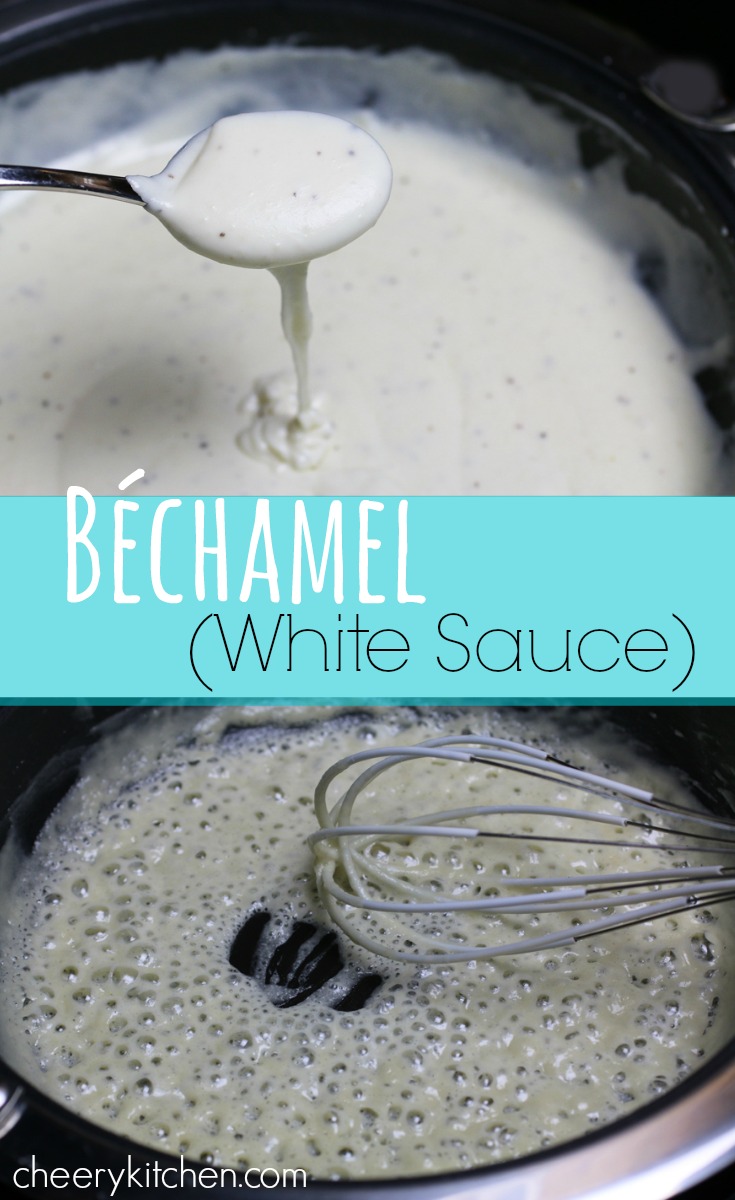 Pin this Cheery Basic. We'll be sharing all kinds of ways to use it!
FRENCH BÉCHAMEL SAUCE (WHITE SAUCES)
Roux
The first step in preparing a Béchamel or Velouté sauce is to make a roux which consists of equal parts of fat and starch that is mixed together and cooked.  Generally this creates a medium white sauce.  You can vary the thin or thickness of the sauce by adding more or less fat or starch.  Also, if you use cream, your sauce will be thicker–and richer, than one made with milk or stock.  A more flavorful sauce can be achieved by adding onions, celery, and seasonings.
In a saucepan, (have I said how much I love my everyday pan, I use it for everything), over medium heat, melt the butter. Stir in the flour and cook, stirring, until blended, 2 minutes.
Gradually add the milk, half and half, or cream, whisking constantly. Reduce the heat to low and continue to whisk, (silicone whisks are great for non-stick pans), until the sauce is smooth and slightly thickened, 5 to 6 minutes. Season with salt and pepper.
Increase the heat to medium and simmer to blend the flavors, 2 to 3 minutes.
Béchamel Sauce (White Sauce)
A basic sauce that can be added to and changed up, Béchamel Sauce and it's cousin Velouté Sauce are what so many sauces are derived from. Stop spending money on canned creamed soups and easily make your own for pennies!
Ingredients
For Medium Consistency:
3 Tablespoons butter
3 Tablespoons all-purpose flour
2 cups scalded milk, half and half, or cream
½ teaspoon salt
¼ teaspoon pepper
Instructions
In a heavy 2 quart saucepan melt butter over medium heat.
Whisk in flour to make roux. Cook, whisking constantly until roux is frothy and free of lumps, about 2 to 3 minutes.
Remove saucepan from heat and add the hot liquid to the roux. Continue whisking until sauce is thick and smooth about 3 to 5 more minutes.
Return sauce to medium heat and simmer uncovered until the desired consistency is achieved
Add salt and pepper.
Notes
Velouté Sauce
Follow direction for making Béchamel Sauce, replacing milk or cream with chicken, fish, or veal stock depending on the food the sauce is being served with.
For Low-carb: I've had good success using almond or coconut flour when making this sauce.
For Gluten Free: Use a gluten free flour mix for great results. I recommend King Arthur Brand Gluten Free Flour.
Many recipes call for white pepper. I actually have always used black pepper, loving how it looks and tastes!
Congratulations, now you're ready to use Béchamel Sauce in dishes such as lasagna, macaroni and cheese, and moussaka, and it can also serve as the base for soufflés, soups, and savory pie fillings.  If you're a seasoned pro sauce creator, how do you like to use it?  Please let us know in the comments below and rate our recipe too!!!
Come see what Alison is cheering about on Wednesday and a great way to use Béchamel Sauce on Friday.  Just know we love having you here!