Grilled Caribbean Pork Kabobs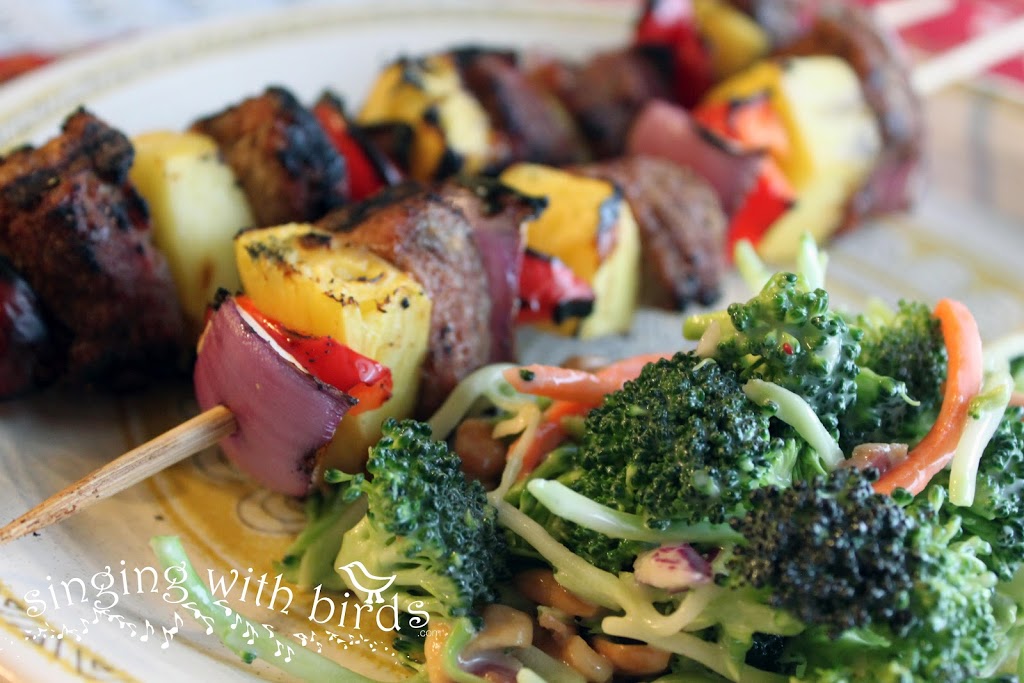 Broccoli Slaw, Grilled Caribbean Pork Kabobs, with a dose of Tylenol for dessert?
Yes, that's exactly what we had for dinner at our place last Saturday night!
Remember Friday the 13th? 
Well, here's a tale of Tylenol and tender bones!  Who would imagine that siblings, (2 of 6), would break limbs the same day in unrelated accidents? Annahlise tried to block a soccer ball at school that was kicked her way.  The ball smacked her just right, and both bones in her right arm were broken.  Spence flew off the trampoline and broke his leg.  He had quite a shiner too.  Dad was in Georgia and their poor mom was on her last legs when we met her in the emergency room at midnight. 

We are thankful because especially for Spencer things could have been much worse.  Monday they saw orthopedic surgeons and got water-proof casts.  Who knew?  Remember putting garbage bags over a cast for bath time?  The doc said," Hose the sand out of the cast."  Ironically it all happened a week before they were leaving for a 7-day family cruise to Mexico. 
Bon Voyage loves…and don't ya just love Spencer's BSU Bronco cast!
Annahlise had an ice-skating competition last Saturday and I was worried that her cast would throw her balance off.  She amazed me and did so well, spinning, jumping and swirling on the ice.  She made me extra proud, got a great score, and her cast hardly showed. Then she flew to California, joining her family for their cruise.
Grilled Caribbean Pork Kabobs
So what sounded good?  Maybe some Tenderloins to go with all that Tylenol…
We whipped up a batch of Caribbean Jerk Rub, an island inspired concoction that adds a slightly sweet and spicy flavor to both pork and chicken.

For Kabobs:  Cut pork tenderloin into desired size chunks and sprinkle with the rub.  Gently work it into the surface of the meat and let it rest while you get everything else ready. Next cut up a fresh pineapple, red peppers and onions.  Thread pork, pineapple, peppers and onion on skewers and make kabobs.  Fire up the grill and cook for 5 minutes on each side, turning them four times.
I served it with a broccoli slaw for a light and luscious Springtime meal on the patio.  Oh, it's a great time of the year!