How To Fold a Bunny Napkin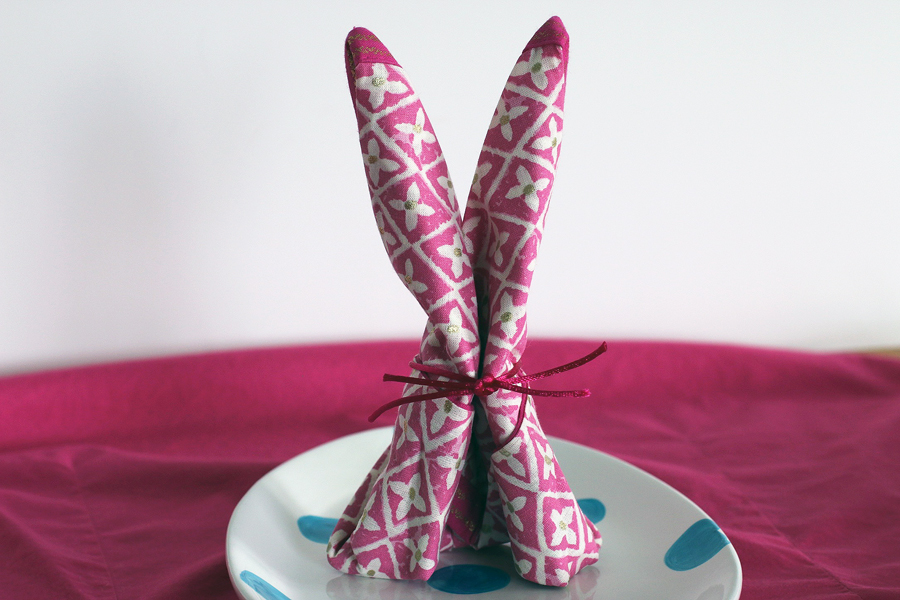 Here's some Hare-Raising fun for YOU!  Learn how to fold a Bunny Napkin for all your Spring parties.  I added a little silk cord to give the bunny napkin some "whiskers" and added stability.  I was so pleased with how much personality the little knotted nose and whiskers added.
I'm also crazy for his/her adorable little cottontail on the backside.  They are super cute on a plate or allow them to go wild and hop all over the table.  Just add some paper grass and tulips for a fun and decorative table.
How to Fold a Bunny Napkin
All you need are square napkins in the color of your choice, a ribbon or cord, (silk or raffia would be super cute), an iron, and your ironing board.   Then just follow the folding instructions from Taste or Home below, and press with your iron each time you make a new fold.
After step 6 I tied and secured my bunny with the cord.  All I did was tie a simple knot and trim the ends.  Then I took another smaller piece and tied it again, then trimmed the ends, easy peasy!
Fold the bottom third of the napkin up and the top third down, making a rectangle.
Step-by-Step:
1. Find the center along the top fold and fold the top corners down, making sure the bottom ends are even.
2. Fold up the outside bottom corners.
3. Fold left and right sides so that they meet in the center.
4. Turn the napkin over and flip the top to bottom. Fold bottom point up.
5. Fold the left and right corners to the back and tuck one corner into the other to hold.
6. Hold the tucked corners securely and pull out the bunny ears on the other end.
I learned how to fold a bunny napkin and put mine together 2 weeks before Easter dinner.  It was such a great feeling to have them all ready to go, and my Easter dinner table looked delightful for my family and friends.  I used bright different colored napkins that matched bright Easter eggs.
Thanks for reading and visiting Cheery Kitchen.  Now it's your turn.  Do you have a memory or idea from your Easter celebrations you'd like to share?  Maybe it's something special you enjoy eating, a family tradition, or an activity.  Please let us know in the comments below.
If you fold Bunny Napkins and send us pics, we'll happily share them here, and look to your right for a "How to Fold a Bunny Napkin" pin you can keep and share!
"HOPPY" Easter all!