Smoky Sweet Barbecue Rub
Here's a great way to be the "Life of the Party," make a batch of Smoky Sweet Barbecue Rub!
Just in time for Mother's Day, Father's Day, and all those 4th of July parties, here's an easy, inexpensive gift (with a free printable).
You can make and take this delicious Smoky Sweet Barbecue Rub to all of your soon to be delighted hosts. It's also perfectly patriotic to use it on your own grill. Mix it up and get ready to dish it out!
"It's not a real barbecue until the fire department shows up!" Ina Garten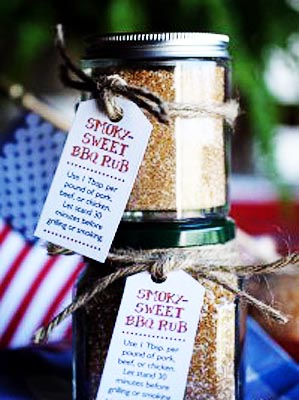 Prepare batches of this spicy gift. It's the perfect base for pork butts, ribs, steaks, chicken, and more.
Go ahead and double or triple, (as many times as you'd like), when making this rub for gifts.
Save all of your little jars, grab some twine, and print the tags for a perfect thank you gift.
Stir together all ingredients.  Store in airtight container for up to 1 year.  Store in a cool, dry place.
Share with guests at your BBQ.  They make a delightful favor! Add a little place card to each jar because all of your friends will be asking for your recipe anyway!!!
Smoky Sweet Barbecue Rub
Try this Smoky Sweet Barbecue Rub on everything! You'll find it amazingly delicious on beef, pork, and chicken..it's all good.
Ingredients
¼ cup kosher salt
¼ cup firmly packed dark brown sugar
2 tablespoons plus 2 teaspoons smoked paprika
2 tablespoons granulated sugar
2 teaspoons garlic powder
2 teaspoons freshly ground pepper
1 teaspoon dry mustard
1 teaspoon ground cumin
1 teaspoon ground ginger
Instructions
Stir together all ingredients.
Store in airtight container for up to 1 year, in a cool, dry place.
Notes
You can double, triple, (or whatever you'd like), this recipe, when making this for gifts. I like to do it this time of the year and share with all my family and friends at parties, for birthdays, and it's a great tasty last minute gift for MOM on her big day!
Recipe credit:
Southern Living
Got a grilling hack?
What makes your barbecue the best?