Apple Bacon Salad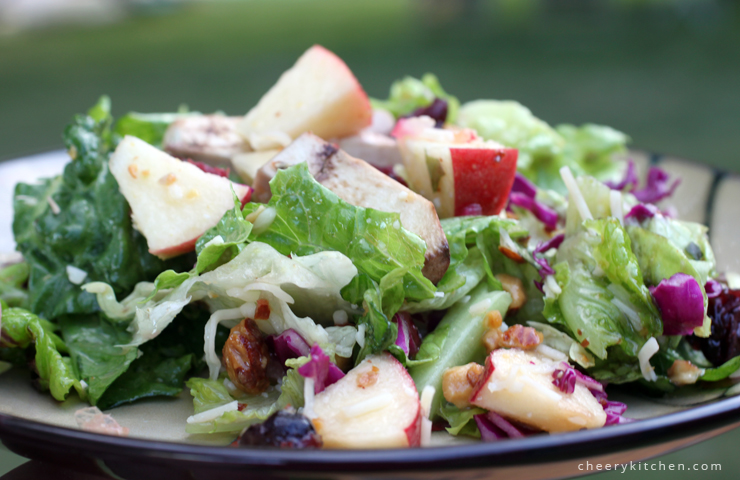 1 cup red wine vinegar
½ cup sugar
1 small red onion, chopped
2 teaspoons dry mustard
1 teaspoon salt
½ cup canola oil
8 ounces sliced almonds, candied
3 tablespoons sugar
2 apples, chopped
1 large red leaf lettuce, torn in pieces
2 heads romaine lettuce, torn in pieces
1 small bunch baby spinach, tails removed
8 ounces sliced fresh mushrooms
8 ounces shredded mozzarella cheese
8 ounces shredded parmesan cheese
½ cup dry cranberries
1 pound bacon, cooked and crumbled
Combine vinegar, sugar, dry mustard, and salt in a blender; add oil in a fine stream processing constantly.
Add the chopped onions, mix and chill.
Cook almonds with sugar in a skillet over medium heat until sugar caramelizes and the almonds are golden brown stirring constantly. Remove to waxed paper to cool.
Toss the red leaf lettuce, romaine, and spinach, mushrooms, bacon, mozzarella, parmesan, cranberries, and apples together in a large salad bowl.
Add dressing just before serving.
Garnish with some cheese and bacon.