Grilled Chicken with Peach Chutney Glaze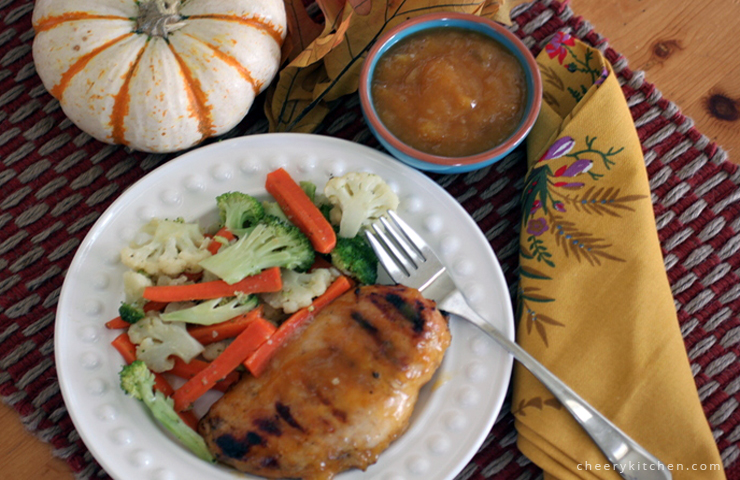 8 chicken breast, boneless, skinless
½ cup Extra virgin olive oil
½ teaspoon salt
½ teaspoon fresh ground pepper
1 teaspoon fresh garlic, minced
½ teaspoon onion powder
a pinch of chili powder
2 cup Major Grey Chutney
2 cup peaches, fresh or frozen
Mix all the seasonings with the olive oil to make a marinade. Toss chicken with mixture and refrigerate for at least 1 hour or overnight.
Blend the chutney and peaches in a food processor. Place in 2 separate bowls, one to baste on the chicken and then discard, and one to serve with your meal.
When ready to grill, preheat your gas grill on high heat. Brush the grill lightly with oil, and turn the temperature to medium heat.
Remove the chicken from the marinade and using tongs, place it on the grill. Brush with the sauce, close the lid and cook for 6 minutes. Uncover, turn the chicken and baste with the sauce again. Cook until it's thoroughly cooked, and reads 165 on an instant read thermometer. Brush with sauce again just prior to removing from the grill.
Remove to a platter and cover with foil. Let it rest for 5 minutes.
Serve immediately with additional sauce.
If your grill is closed for the winter, you can bake at 350 for one hour.

Place chicken breast in a 9 X 13" pan, brush sauce over the chicken, cover with foil and bake for 45 minutes. Uncover, brush with more sauce and bake for 15 more minutes. Serve hot with additional sauce.
Recipe by
Cheery Kitchen
at https://cheerykitchen.com/grilled-chicken-with-peach-chutney-glaze/