Mint Chocolate Chip Skillet Cookie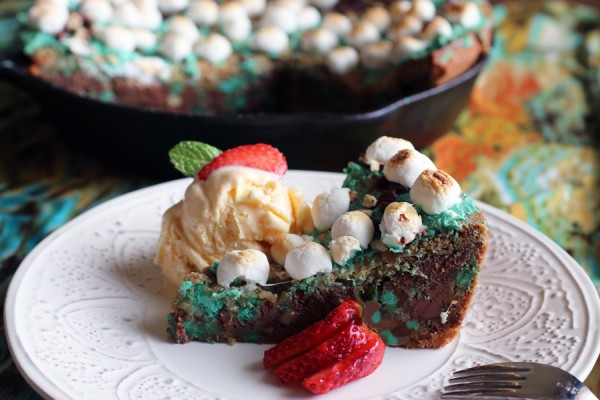 17 Tablespoons of butter, softened
1 cup granulated sugar
½ cup packed brown sugar
1 teaspoon vanilla extract
1 teaspoon mint extract
1 Tablespoons milk
2 eggs
2-3/4 cup flour
1 teaspoon baking soda
½ teaspoon salt
1 cup milk chocolate chips
1-1/2 cups green mint chips, divide
1 cup chopped walnuts,(optional)
1 cup mini-marshmallows
Preheat oven to 350˚degrees.
Mix the butter and sugar together with an electric mixer until creamed. Add the vanilla extract, mint extract, milk and mix again until smooth. Add the eggs; beat slowly until incorporated. Add the flour, baking soda, salt and flour and mix well. Stir in the milk chocolate chips, green mint chips, and walnuts.
Press the dough into a 10-inch or larger cast iron skillet that's been greased and floured.
Bake for 20 minutes, see notes. Remove from oven and let rest for at least one hour in order for the pieces to hold their shape when cut.
Melt remaining ½ cup of green mint chips in a ziptop bag and microwave on high power for 15 second intervals till melted and smooth. Drizzle over the top of the Mint Chocolate Chip Skillet Cookie. Sprinkle and press mini-marshmallows over the top of the skillet cookie. Toast marshmallows with a culinary torch or toast them under your broiler, watching carefully not to burn..
Cut skillet cookie into wedges and serve with a scoop of ice cream if desired.
If you like your cookie skillet to have a soft, "cookie dough" center remove from the oven after 20 minutes. We like to have ours more like a cookie, so I cover my skillet with foil and bake for an additional 15 minutes.

If you use a large skillet, bigger than 10-inches, be sure to adjust the baking time as the dough will be more spread out and cook more quickly.
Recipe by
Cheery Kitchen
at https://cheerykitchen.com/mint-chocolate-chip-skillet-cookie/