Béchamel Sauce (White Sauce)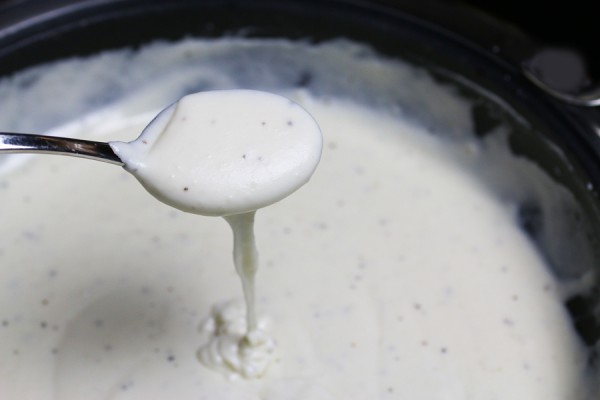 3 Tablespoons butter
3 Tablespoons all-purpose flour
2 cups scalded milk, half and half, or cream
½ teaspoon salt
¼ teaspoon pepper
In a heavy 2 quart saucepan melt butter over medium heat.
Whisk in flour to make roux. Cook, whisking constantly until roux is frothy and free of lumps, about 2 to 3 minutes.
Remove saucepan from heat and add the hot liquid to the roux. Continue whisking until sauce is thick and smooth about 3 to 5 more minutes.
Return sauce to medium heat and simmer uncovered until the desired consistency is achieved
Add salt and pepper.
Velouté Sauce
Follow direction for making Béchamel Sauce, replacing milk or cream with chicken, fish, or veal stock depending on the food the sauce is being served with.
For Low-carb: I've had good success using almond or coconut flour when making this sauce.
For Gluten Free: Use a gluten free flour mix for great results. I recommend King Arthur Brand Gluten Free Flour.
Many recipes call for white pepper. I actually have always used black pepper, loving how it looks and tastes!
Recipe by
Cheery Kitchen
at https://cheerykitchen.com/french-bechamel-sauce/