Grilled Ribeye Steaks with Chimichurri Sauce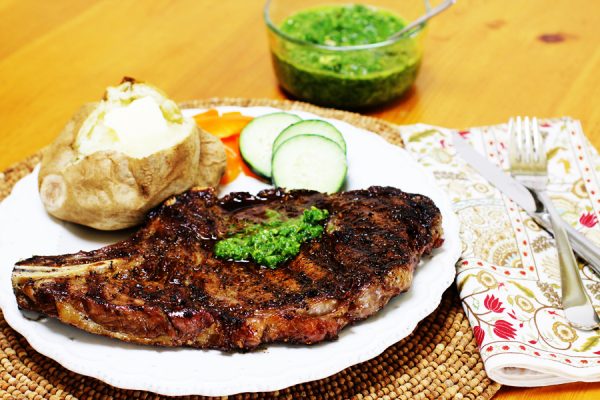 Recipe type:
Entree, Sauce
2 ribeye steaks
kosher salt
fresh ground pepper
1 large bunch Italian parsley, leaves and thinner stems only, (about a cup)
½ large bunch of fresh cilantro leaves
1 tablespoon fresh oregano leaves
4 garlic cloves
¼ teaspoon red pepper flakes
¼ teaspoon freshly ground pepper
¼ teaspoon cumin
1 teaspoon kosher salt
⅓ cup olive oil
2 tablespoons red wine vinegar
Preheat gas grill on medium heat.
Salt and pepper your steaks as desired.
Add steaks to the grill and quickly sear both sides. Reduce heat to low, and grill steaks, depending on their thickness, and how you like your steaks, 10-15 minutes per side for medium.
Remove from the grill. Cover and let rest for 5 minutes before serving.
Add all the ingredients in a food processor or blender. Pulse or whirl away until you have a beautiful sauce. I like to pulse mine so it's still a little chunky.
Transfer to a small bowl for serving.
Taste and adjust seasonings to your liking.
Serve at room temperature and refrigerate any leftovers.
Sauce will keep for about a week.
Recipe by
Cheery Kitchen
at https://cheerykitchen.com/grilled-ribeye-steaks-with-chimichurri-sauce/