Peach Pie Bars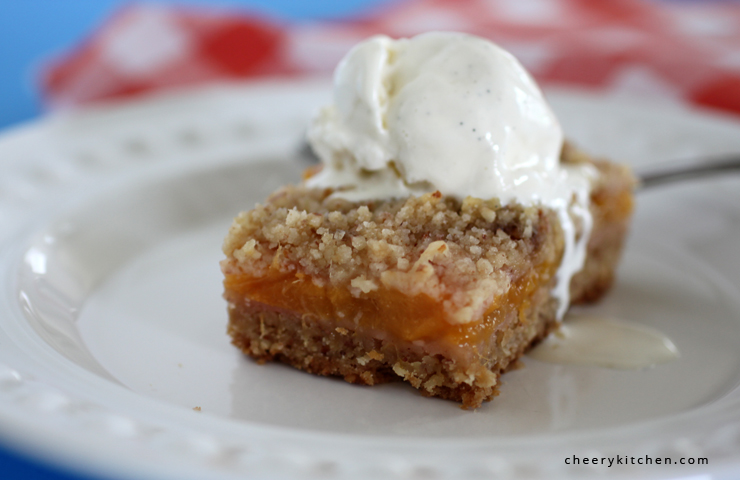 Summertime is the best and hardest time of the year for me.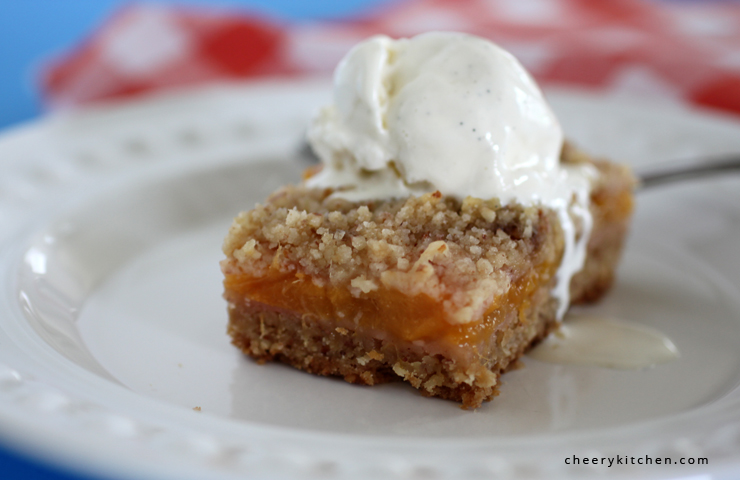 Why, because of all the scrumptious fresh fruits and veggies that are so difficult to resist!  I'm in absolute love with ripe, juicy, peaches and watermelon, and the corn is getting high.  It's time for a midsummer night's feast and Peach Pie Bars adorned with scoops of divine vanilla bean ice-cream are the perfect way to end a lovely evening together.
Peach Pie Bars
If you've got a food processor (in a fire, I'd grab mine), Peach Pie Bars will be in the oven in no time.
For starters, preheat your oven to 350 degrees.
1.  Buy some big, beautiful, local, peaches.  I used 5, (about 3 pounds) that produced 4 cups of fruit.
2.  If you've got a food processor finely chop the almonds, or grab a knife and chop away.
3.  To the food processor bowl, or a mixing bowl, add flour and brown sugar to the chopped almonds and mix well.  Slice cold butter, (1 cup, 2 sticks) into about 8 pieces.  Add it to the processor and pulse till it becomes a fine crumb.  If you don't have a food processor, a pastry blender will work with a little extra work on your part.
4.  Set aside 1-1/2 cups of the flour, butter, sugar, nut, mixture for the top of the bars.
5.  Line a 9×13″ baking pan with foil.  Make sure to leave foil overlapping the pan, so you can lift the bars out of the pan after they are cool.  It makes it so easy to cut nice, even, slices.  Pat the remaining crust mixture into the pan and bake in preheated oven for 20 minutes.
6.  While the crust is baking, blanch the peaches for 2 minutes each in boiling water.  Slip the skins and cut them up into chunks. Measure making sure you have 4 full cups.  Mix sugar and cornstarch together in a mixing bowl and add the peaches and vanilla extract.  When the crust comes out of the oven, evenly spread the peach mixture over the crust and then sprinkle evenly with the remaining 1-1/2 cups of crust mixture you've been saving for this moment.
Bake Peach Pie Bars for 40 to 50 minutes, remember oven temps vary.  Start watching them at 40 minutes. You want the top of your bars to be a light brown.  Remove from oven.  Cool on a wire rack completely.  Using the edges of the foil, lift the baked bars out of the pan.  Make sure they are well set before cutting into bars.  Makes 16 to 24 bars.
Peach Pie Bars
Fresh, ripe, juicy, peaches make Peach Pie Bars the ideal treat for a Midsummer Feast! The rest of the year break out your frozen or canned peaches to make this a heavenly year round treat your family and friends will be crazy about! Don't forget to top with a scoop of good vanilla bean ice-cream....enjoy.
Ingredients
1-1/4 cups of almonds, finely ground
2 cups flour
¾ cup brown sugar, packed
1 cup butter, cut up
¾ cup granulated sugar
2 Tablespoons cornstarch
4 cups of prepared peaches, (drain some of the natural juice if need be)
1 teaspoon vanilla extract
foil for lining the pan
Instructions
Preheat oven to 350 degrees.
Line a 9x13" pan with foil, extending the foil over the edges of the pan. Set aside.
For crust, in a large bowl or food processor, stir together the flour, almonds, and brown sugar. Cut in butter with food processor or pastry blender until the mixture resembles fine crumbs.
Remove 1-1/2 cups of crust mixture and set aside.
Press the remaining crust mixture evenly into foil lined pan.
Bake in preheated oven for 20 minutes.
For the filling, in another large bowl, combine the sugar and cornstarch. Add the peaches and vanilla, tossing gently to combine.
Spoon peach filling over hot baked crust, spreading evenly, mixture will be wet. Sprinkle with reserved crumb mixture.
Bake for 40 to 50 minutes more, or until filling is bubbly and topping is lightly browned. Cool in pan on wire rack. Using the edges of the foil, lift the baked pie bars out of the pan. Cool completely. Cut into bars.
I sure hope you have enjoying a delicious summer.  I packed Peach Pie Bars for a picnic basket yesterday and they were a smashing success with all who tried them.  Where and how would you serve them?
Thanks for your comments and for pinning too!
This site contains affiliate links, which means that I may get a commission if you decide to purchase anything from suggested companies. I recommend products that I use and love myself or that I think would be a helpful resource for you. Using these affiliate links to make your purchase helps to support Cheery Kitchen and my family. Thank you!