Mojo Red Cabbage Slaw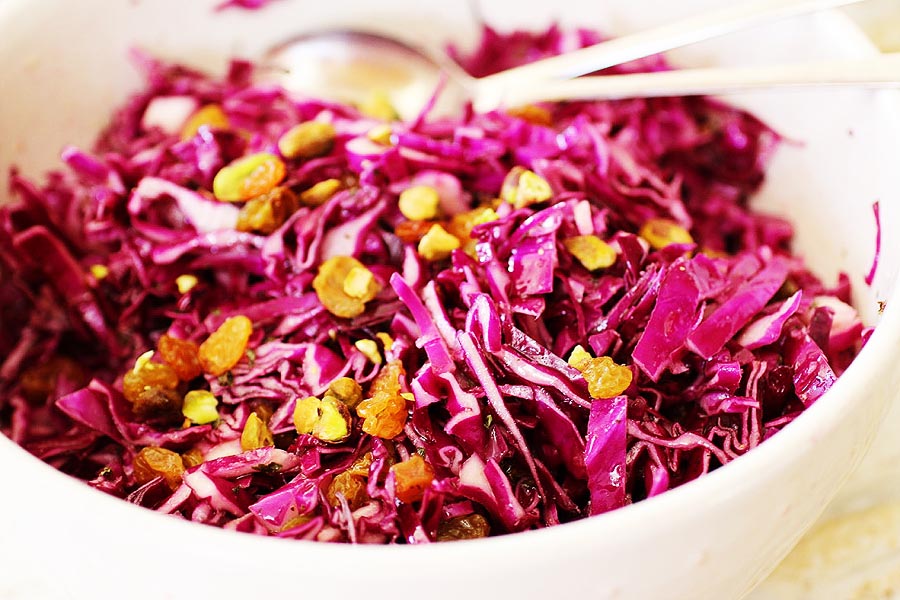 What matters most to you?  I crave fresh, crunchy, flavorful, salads and want Mojo Red Cabbage Slaw weekly!
Calories and nutrients matter too, so when I take the time to prepare a fresh salad, I want a lot of bang for my buck.  Latin inspired, Mojo Red Cabbage Slaw delivers, appetizing, bright, and citrusy, it is filled with golden raisins and pistachios.
Take it to potlucks and parties all summer long.  It's my new go to salad when I grill, especially chicken, salmon, and ribs.
"If you really want to make a friend, go to someone's house and eat with him… the people who give you their food give you their heart."
Are you wondering what mojo is?
It is the signature marinade of Cuba and it finds its way into many varied dishes.  Many mojos do not include oil; with or without oil the key element is "sour" orange, an almost bitter orange that grows throughout Cuba and now it flourishes in most Miami backyards. I use: 2 parts orange juice to 1 part lemon juice and 1 part lime juice.
The key to a good mojo is in the proportions; garlic, cumin, salt, whole black peppercorns and orange juice are it's main ingredients.
When we posted our Mojo Grilled Chicken recipe so many of you requested the Mojo Red Cabbage Slaw I serve with it.  It's super easy to make the marinade.
I actually double my recipe and pour half of it over the chicken that I marinade and save the other half for my salad.
Next I get my cabbage shredded in my 11 cup food processor, I add the other half of my marinade/dressing, add in golden raisins, (so much prettier than the others), and roughly chopped pistachios. In no time I have a fabulous, fresh, crunchy, slaw everybody loves, especially me!