Grilled Ribeye Steaks with Chimichurri Sauce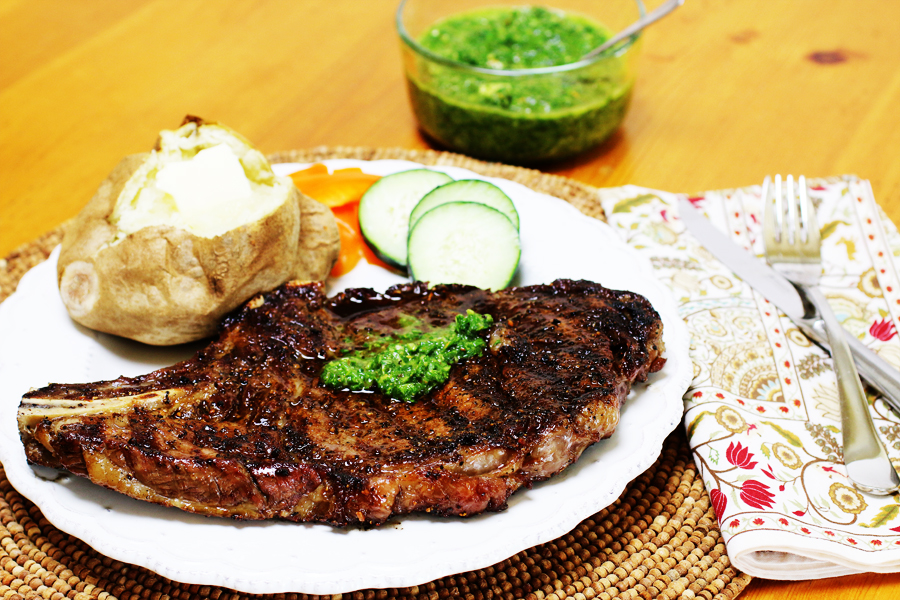 My gaucho grills like no other.  Our favorite Argentine indulgence is Grilled Ribeye Steaks with Chimichurri Sauce.  Year round we grill, even if it's 25 degrees below zero!  Yeah, you'll find my man is bundled head to toe and firing up his beloved grill!
Most families enjoy ham or turkey for Christmas dinner, but with our California roots, we always grill.  Salmon fillets, pork tenderloin, chicken, or ribeye, our preferred steak.  In all goes well with beautiful baked potatoes and green salads.
We often top it with a chimichurri sauce, which is often called Argentine barbecue sauce.  It can be served with all kinds of meats.  Try it along side an omelet and with fajitas too.
They say, "It takes two to Tango," and this is how we do it!
"'The only time to eat diet food is while you're waiting for the steak to cook."
Grilled Ribeye Steaks with Chimichurri Sauce
Fire up the grill, and plan on 10-15 minutes per side for your steaks.
My job is to prepare the meat.  I seasoned it with kosher salt and fresh ground pepper, because I'm going to serve them with a fresh chimichurri sauce.
Sear your ribeye steaks and then set the temp to low on a gas grill.
While the steaks are on the grill make your chimichurri sauce.  I like to use my food processor, you can use a blender too. Add all of the ingredients to your processor bowl or blender and whirl it all together.  Add it to a small bowl and serve it at room temperature.  Be sure to refrigerate any leftovers.  The sauce will keep for about 1 week.
Grilled Ribeye Steaks with Chimichurri Sauce
Our favorite way to Tango, Argentine Grilled Ribeye Steaks with Chimichurri Sauce is one of our best barbecue recipes. The sauce is super fresh, delicious, and colorful served with meats, omelets, or fajitas!
Recipe type:
Entree, Sauce
Ingredients
Ribeye Steaks:
2 ribeye steaks
kosher salt
fresh ground pepper
Chimichurri Sauce:
1 large bunch Italian parsley, leaves and thinner stems only, (about a cup)
½ large bunch of fresh cilantro leaves
1 tablespoon fresh oregano leaves
4 garlic cloves
¼ teaspoon red pepper flakes
¼ teaspoon freshly ground pepper
¼ teaspoon cumin
1 teaspoon kosher salt
⅓ cup olive oil
2 tablespoons red wine vinegar
Instructions
Ribeye Steaks:
Preheat gas grill on medium heat.
Salt and pepper your steaks as desired.
Add steaks to the grill and quickly sear both sides. Reduce heat to low, and grill steaks, depending on their thickness, and how you like your steaks, 10-15 minutes per side for medium.
Remove from the grill. Cover and let rest for 5 minutes before serving.
Chimichurri Sauce:
Add all the ingredients in a food processor or blender. Pulse or whirl away until you have a beautiful sauce. I like to pulse mine so it's still a little chunky.
Transfer to a small bowl for serving.
Taste and adjust seasonings to your liking.
Serve at room temperature and refrigerate any leftovers.
Notes
Sauce will keep for about a week.
What's Your Favorite?
Have you got a grill recipe you love enough to share?