Chickpea-Chicken Tostadas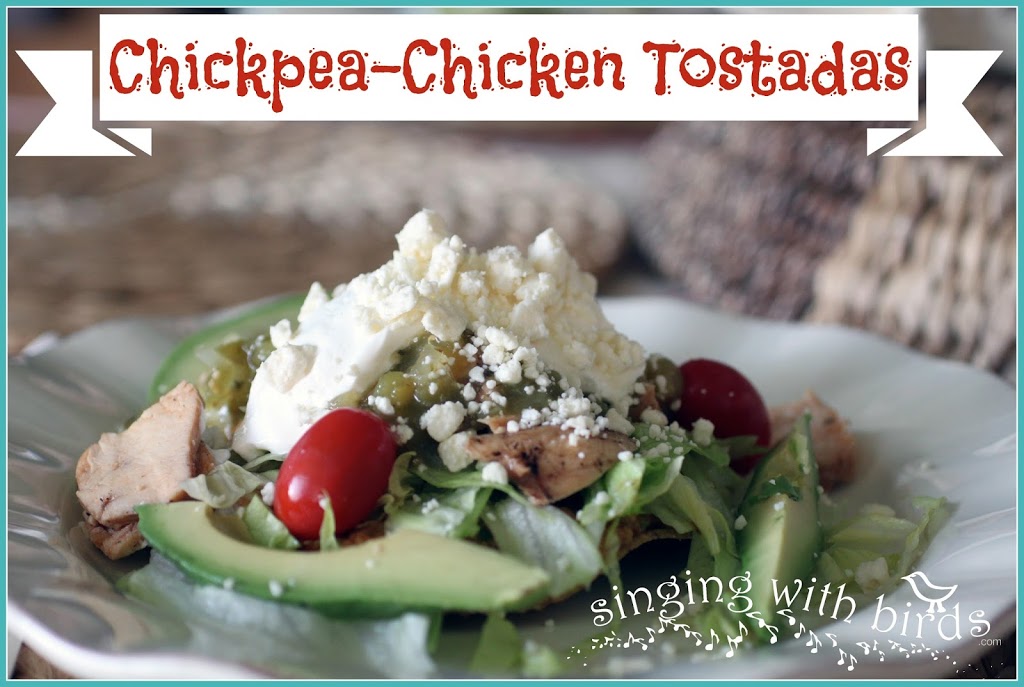 Crunchy and comfortable…Chickpea Chicken Tostadas is a Mexican meal with a Mediterranean twist!
That's how I felt when I bit into this tostada.  The chipolte peppers add a kick, but not too much heat.  If you are sensitive to spicy, start with 1 chipolte pepper.  Otherwise, bring it on.   I could eat them every day!
There's just something so delicious about a crisp shell, and iceberg lettuce together.  Yeah, I know, there's little food value in iceberg lettuce, but this is where I use it…tacos and tostadas!
Chop up onion, garlic and peppers and toss them in a fry pan.  Saute for 5 minutes or until tender.
Add the chickpeas…or garbanzo beans, whatever you like to call them.  Either name works…add broth and bring it to a boil.  Reduce heat and simmer 5 minutes.
Process chickpea mixture, cilantro, and chipolte peppers in my favorite food processor or with a hand blender until smooth. Return mixture to skillet. Simmer, stirring occasionally, until very thick. Stir in lime juice, and salt and cook 2 to 3 minutes.
Spread chickpea mixture evenly over tortillas. Top evenly with lettuce and tomato. Add sliced chicken breast. Top evenly with lettuce and tomato. Add sliced chicken breast.
Drizzle with Todd's Tomatillo Salsa, a dollop of sour cream and sprinkle with cheese. Garnish with avocado slices.
Chickpea-Chicken Tostadas
Great to have you here.  Tell me, what's you favorite crunchy food?  I'd love to know!