Crock-Pot Turkey Breast with Easy Turkey Gravy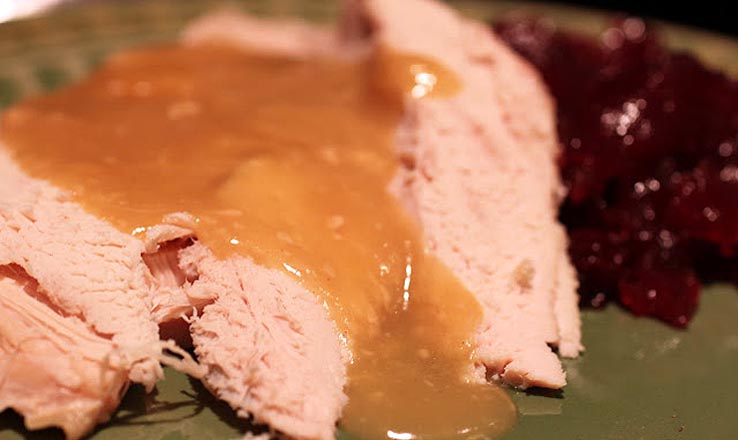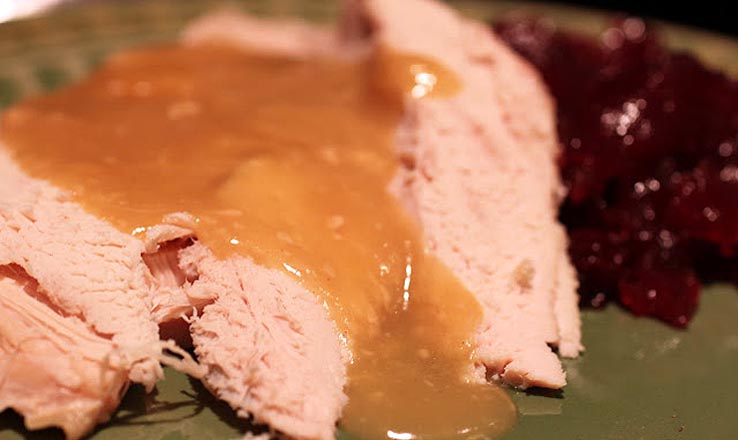 It's hard to believe we have come to the last week of October, which is Breast Cancer Awareness Month. If you have not had a mammogram yet, please make an appointment today. Two of my friends are currently undergoing treatment, and because of early detection, they have been given favorable outcomes. Their lives have taken a turn and it has been a difficult, but they are both receiving help. I well remember when breast cancer was a death sentence, and I am so grateful for the medical advancements of our day. It's truly remarkable.
We all feel a little apprehensive about going for an annual screening. I admit, it's not a real pleasant procedure and we all feel nervous about learning the results. It's a little bit like how I used to feel about cooking a turkey. By the time I thawed it properly, washed, dried, and seasoned the cavity, stuffed it, baked it, make gravy, cleaned it up, used the leftovers and made soup, I was glad I only had to do it once a year!
Well, guess what, I've found a good and better way! It's going to be hard for me to create a recipe for you….just watch and before you know it, you'll be all done and enjoying moist, delicious turkey for dinner!
Good*Better*Turkey Breast
Buy a bone in turkey breast. I bought a 6.60 pound breast for $1.99 a pound. That adds up to a very reasonable meal, with very little waste, that will serve 10 people, figuring 1/2 pound per person.
Remove the packaging and wash and dry your turkey breast well.
Now fold the excess skin under the ribs and tuck it in a 6 quart slow-cooker. Turn your pot to low and walk away for 8 hours. Oh, this is a delight on a busy Sunday morning before church meetings.
Remove it from the cooker to a platter and cover with foil for 10-15 minutes. While the turkey breast is resting, make gravy if desired.
Easy Turkey Gravy
5 cups turkey stock, (you will need to add canned stock or Better Than Bouillon to the stock)
1/4 cup all-purpose flour
1 cup water
1 teaspoon poultry seasoning
1 teaspoon salt
1/2 teaspoon ground black pepper
1/4 teaspoon celery salt
1/8 teaspoon ground marjoram
In a medium saucepan, bring the turkey stock to a boil. In a small bowl, dissolve flour in water. Gradually whisk into the turkey stock. Season with poultry seasoning, salt, pepper, celery salt, and marjoram. Bring to a boil, reduce heat, and simmer for 8 to 10 minutes, or until thickened.
Slice turkey breast and serve with lots of love and some of your favorite sides.
My hope for all, please take care of your breasts and while you're having a scan, throw one in a crock-pot…showing love for yourself and those who love you!
Great to have you here…for many years to come!