Amazing Homemade Milk Chocolate Nut Fudge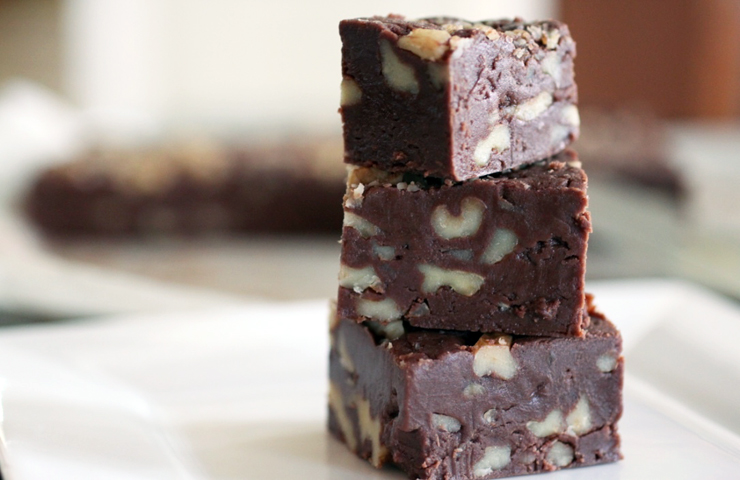 Oh heavens, Amazing Milk Chocolate Nut Fudge is the best stuff you'll ever sink your teeth into.  It's so creamy, smooth, and loaded with toasted nuts, a perfect fudge for Christmas.  In fact, I've already heard from Santa Claus.  He's requested no cookies, just fudge on his Christmas Eve goodie plate!
Amazing Homemade Milk Chocolate Nut Fudge
I have a talented friend who makes and sells heavenly fudge and her recipe is a well kept secret.  For years I have been searching for something even close to it.  Well here it is folks!  
Forget sticky marshmallow cream and having to use a candy thermometer (that may or may not be accurate).  Just measure the chocolate and prepare a 9 x 13″ pan, by lining it with a sheet of parchment and set them aside.  Next, cook and stir the milk and sugar, in a heavy 3 quart saucepan for 10 minutes, pour it over the chocolate, nuts, and vanilla, beat it good, so it's glossy and pour it into the pan.  It's super easy and amazingly delicious.
Here's a tip:  I like to buy big bags of nuts at my membership warehouse and then toast and chop them. It's a huge help to have nuts all ready for baking and candy making during the holidays.  Just preheat your oven to 350 degrees F and spread an even layer of nuts on a half baking sheet and roast the nuts for 6 to 10 minutes until they are golden brown and fragrant.  Remove them from the oven, let them cool and then chop them up and store in zip top bags.
Amazing Milk Chocolate Nut Fudge
Get ready for the creamiest, most Amazing Homemade Milk Chocolate Nut Fudge you've ever tasted. Thank heavens it makes a big batch, cause it's a serious crowd pleaser!
Ingredients
1 (12 oz.) can evaporated milk
4½ cups granulated sugar
1 (21-ounce) package milk chocolate chips
1 cup butter, room temperature
1 tablespoon pure vanilla extract
2 cups chopped nuts (walnuts, pecans, or almonds), I always toast mine.
Instructions
Prepare a 9 x 13 inch pan by lining it with parchment paper. Set aside.
Measure out 3 cups of milk chocolate chips into a large mixing bowl and set aside.
Mix evaporated milk and sugar together in heavy saucepan and bring to a boil over medium-high heat. Boil for 10 minutes, stirring constantly.
Remove from heat and add chocolate chips and butter.
Stir together to melt chocolate and butter. Add vanilla and nuts; stir to mix really well. Pour into prepared 9×13-inch pan and let cool.
Cut into squares. Store in airtight container.
This fudge also freezes well.
Notes
It's best to let this fudge set up in the refrigerator before cutting it.
Be sure to make a couple of batches and freeze them to add to goodie plates or fill candy dishes with. It's great to take to parties too.
OK, it's your turn.  What's your best tip for making homemade fudge?
Thanks for reading and please keep in touch via social media and pin away!