Favorite Green Chile Sauce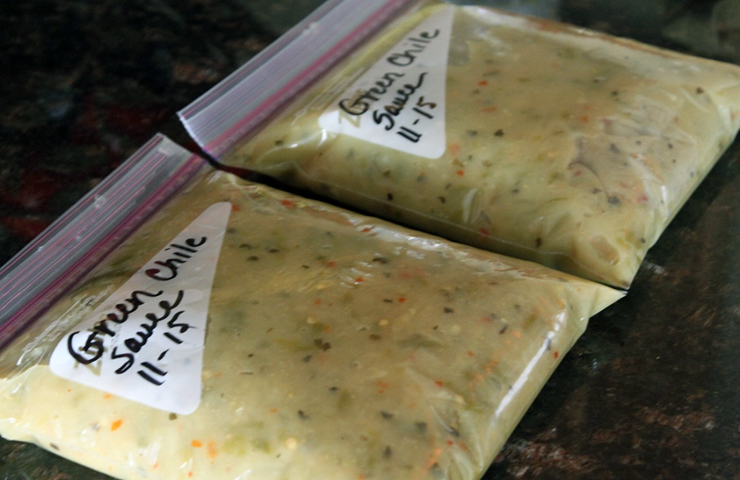 "Make mine all green," that's what I almost always order at my favorite Mexican haunts. I used to buy big cans of green enchilada sauce, but they are expensive, and not nearly as good as my Green Chile Sauce. I'm staking my reputation on yo' mamacita's gravy, I've had a lot of verde sauce, trust me, you won't find better than this one!
Green Chile Sauce
Alison and I are excited about our new series, Cheery Basics. We will be sharing elemental recipes, essentially cooking 101.  We hope you'll check back often, watching for fast and easy additional ways to use these base recipes.  Next week I will share my favorite way I use Green Chile Sauce all the time!
Green Chile Sauce is versatile, you most likely have most of the ingredients in your pantry. Our recipe yields 1 gallon of sauce.  It's just as easy to make a gallon of sauce as it is to make a quart.  I like to ladle mine into 4 quart size zip-top bags, let it cool, label it and then freeze it. It should be used within 1 week if fresh, or 6 months if frozen.
Another good option, especially if you grow chilies in your garden, is to can it.  It requires a pressure cooker, and a little education, but it's not hard to do.  Ladle your Green Chile Sauce into pint or half-pint canning jars, leaving 1/2 inch of headspace. Process in a pressure canner at 10 pounds of pressure for 35 minutes. If you live at an altitude above 1,000 feet, consult your canning book, or local extension office, for directions on increasing your pressure to suit your altitude.
Let's get started, here's what you need.  Watch for canned green chilies, whole or diced on sale. Sometimes I buy bigger 16-ounce cans or smaller ones and just use the equivalent; 4 (4-ounce cans).  It really does not matter, I make sure it's the best buy.
Now for the prep, this is a job for my trusty 11 cup Cuisinart Food Processor I've had forever!  I use it to chop my onions, garlic, and green chilies on the pulse cycle.  I also add the flour and cornstarch to 3 cups of cold water, (always add cornstarch to cold water, that's a basic rule), and stir it till it's smooth.  Set it aside.
In a large 7 quart dutch oven, over medium heat, sauté onion, chilies, and garlic in butter to soften. Next add the chicken stock and bring it to a boil.  Add all of the spices and cornstarch-flour mixture and stir constantly until it's thick and bubbly.  Turn the heat down to low and cook for 10 minutes.
Cool and place in the refrigerator if you'll be using it within a week, or add to freezer bags or jars to freeze or can.
Here's the recipe.

Green Chile Sauce
Enjoy our Cheery Basic, Green Chile Sauce, on all kinds of Mexican foods we will be sharing here. It makes a gallon and freezes well or is perfect for canning.
Ingredients
4 onions, diced
2 teaspoons garlic, chopped
½ cup butter, (1 stick)
2 (16-ounce) cans green chilies
8 cups chicken stock
1 Tablespoon pepper
1 Tablespoon red chile flakes
1-1/2 Tablespoons oregano
2 Tablespoons cumin
2-3 Tablespoons salt, (start with 2 and then add more!)
¾ cup flour
½ cup cornstarch
Instructions
In a large Dutch oven over medium heat, sauté all vegetables in butter to soften. Add the chicken stock and bring to a boil. Add pepper, red chile flakes, oregano, cumin, and salt.
Mix flour and cornstarch in 3 cups of cold water, stirring well till smooth. Add it to the pot and cook, stirring constantly until the sauce is thick and bubbly.
Set heat to low and cook for 10 minutes.
Cool sauce and refrigerate, or ladle into freezer bags or canning jars.
Notes
Use fresh sauce in 1 week.

I like to ladle 4 cups into quart freezer bags. Use frozen sauce within 6 months. Yields 4 quarts.
I hope you'll love how I use this yummy sauce as much as I do.  In the meantime, what do you prefer on all of your Mexican specialties, red or green sauce?  I'd love to hear how you use it too.
Here's my very favorite way to use Green Chile Sauce.
Thanks for reading at Cheery Kitchen.  Like us on facebook and please pin and share!