Cheesy Au Gratin Potatoes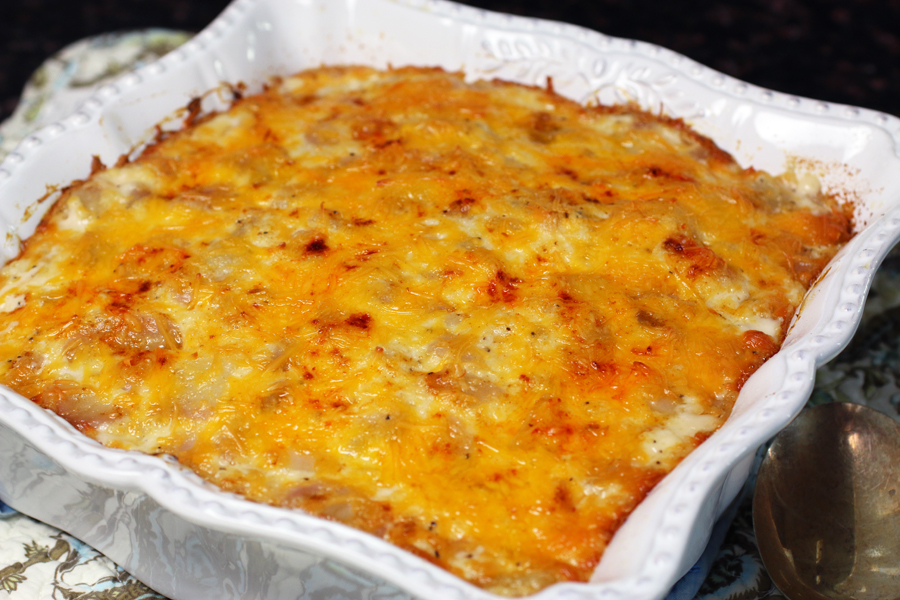 Cheesy Au Gratin Potatoes
If you like potatoes that are creamy, Cheesy Au Gratin Potatoes is the dish for you. It's perfect along side ham, chicken, pork, or beef and extra special for holidays.
Ingredients
For Basic Cheesy Au Gratin Potatoes:
3 pounds of potatoes, cooked, cubed or sliced
3 cups Béchamel Sauce
1-1/2 cups sharp cheddar cheese, shredded and divided
⅛ teaspoon paprika
To Load Them Up:
4 green onions, white and green parts sliced
½ red or green bell pepper, diced
3 stalks of celery, thinly sliced
10 slices bacon, cooked and crumbled
½ cup sour cream
Instructions
Preheat oven to 350˚degrees.
Prepare a 3-quart baking dish by spraying it with non-stick spray.
In a large mixing bowl combine potatoes and sauce, being careful not to break potatoes up.
Add 1 cup of cheese and scoop into baking dish.
Sprinkle with remaining ½ cup of cheese.
Sprinkle with paprika
Bake uncovered for 45 minutes.
Serve immediately.
To Load Them UP:
Add green onion, peppers, celery, bacon and sour cream when you add the 1 cup of cheese.
Notes
Use any kind of potato that you like. My husband loves it when I make them with russets and I love to use red potatoes. Use your favorites.

I love the taste of sharp cheddar cheese, but again use your favorite cheese too.

Plan on using 1 cup of sauce to one pound of cooked potatoes. So for 3 pounds of potatoes I doubled my recipe for Béchamel Sauce.
Béchamel Sauce (White Sauce)
A basic sauce that can be added to and changed up, Béchamel Sauce and it's cousin Velouté Sauce are what so many sauces are derived from. Stop spending money on canned creamed soups and easily make your own for pennies!
Ingredients
For Medium Consistency:
3 Tablespoons butter
3 Tablespoons all-purpose flour
2 cups scalded milk, half and half, or cream
½ teaspoon salt
¼ teaspoon pepper
Instructions
In a heavy 2 quart saucepan melt butter over medium heat.
Whisk in flour to make roux. Cook, whisking constantly until roux is frothy and free of lumps, about 2 to 3 minutes.
Remove saucepan from heat and add the hot liquid to the roux. Continue whisking until sauce is thick and smooth about 3 to 5 more minutes.
Return sauce to medium heat and simmer uncovered until the desired consistency is achieved
Add salt and pepper.
Notes
Velouté Sauce
Follow direction for making Béchamel Sauce, replacing milk or cream with chicken, fish, or veal stock depending on the food the sauce is being served with.
For Low-carb: I've had good success using almond or coconut flour when making this sauce.
For Gluten Free: Use a gluten free flour mix for great results. I recommend King Arthur Brand Gluten Free Flour.
Many recipes call for white pepper. I actually have always used black pepper, loving how it looks and tastes!
Your turn, what is your favorite cheesy comfort food?  How often do you like to make it?  Thanks for sharing, rating our recipe, and reading.  It makes our day to have you here at CK!