Mom's Natural Sore Throat Gargle Recipe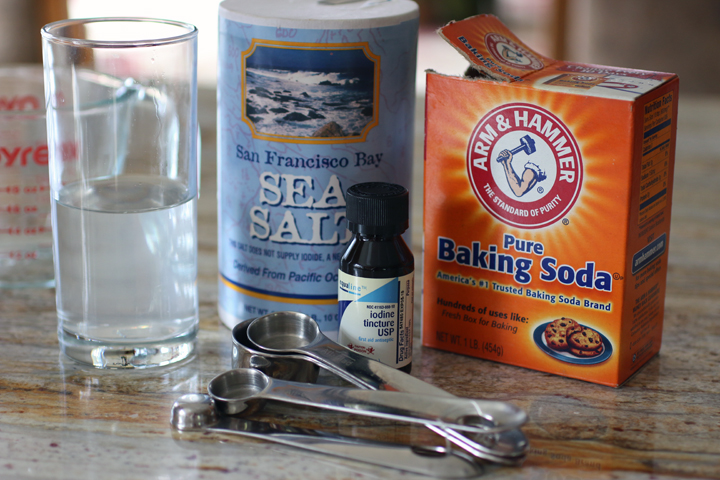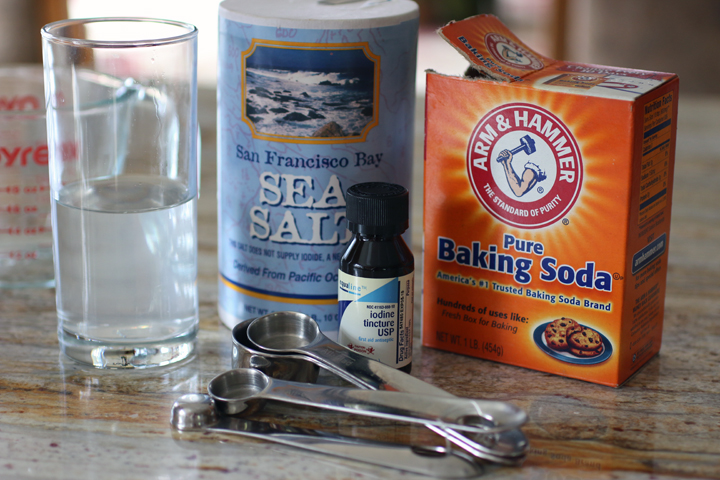 Have you been plagued by the awful sore throat that's been going around?  It seems like everyone I know is complaining of the, "worst sore throat I've ever had."  And yeah, I know this isn't a pretty post, unless you are hurting and wishing you could do something about it.  So because I love ya and want you and everyone else to feel better, I'm sharing my Mom's Natural Sore Throat Gargle Recipe.  You'll thank me later!
Mom's Natural Sore Throat Gargle Recipe
A good friend told me she ran to the doctor and had a strep test taken she was so miserable. Her doctor said she had a virus and there was nothing he could do for her.  She really suffered and was so sick for about two weeks.  I wished I'd known sooner and could have shared what our family does. Avoid taking lots of pain killers and throat drops with sugar and save money too.
A great ENT, Dr. Barnes, in Southern California, shared this with my Mom when I was a young girl and it has been our go to remedy for sore throats for many years. If you do it right, 3 times each day, from my experience, it will knock your sore throat. The combination of very warm water, (I use the warm/hottest water I can stand), salt, baking soda and iodine will do the trick, killing the bacteria and getting you back on your feet.
WARNING: Be sure not to swallow this mixture, only gargle with it.
If you're not sure how to gargle, here's the how to:
Gargle with the solution for thirty seconds. To gargle, take a deep breath and pour two or three ounces of the solution into your mouth without swallowing. Tilt your head back (roughly 30°), keep the back of your throat closed, and gargle for a full thirty seconds before spitting out the solution.Use very warm water.  It brings the blood to the surface.
For children, try having them gargle with regular warm water first. The only age restriction to this treatment method is a child's ability to gargle without swallowing, which is usually around four or five years of age.
Lean your head back and get the liquid as far back in your throat as you can.
Stir the gargle mixture solution each time before you add more to your mouth.
Repeat the process until you've gargled all four ounces. Depending on how much of the solution you pour in your mouth, you should be able to repeat the process two or three times with the 4-ounces of solution.
Take a deep breath and gargle for thirty seconds each time until the solution is all gone.
Mom's Natural Sore Throat Gargle Recipe
Use tried and true, Mom's Natural Sore Throat Gargle Recipe three times each day. Here's the step-by step how to...feel better fast!
Ingredients
½ cup hot water
½ teaspoon of salt
¼ teaspoon of baking soda
3 drops of iodine
Instructions
Add 4 ounces of very warm water in a glass.
Add salt, baking soda, and iodine and stir well.
Use gargle solution till it's all gone.
Use 3 to 4 times a day.
Notes
WARNING: Only use this solution to gargle. Do not swallow!
Have you got a family remedy that works well for you?  Also, what are you doing to stay healthy this winter?  I'm convinced that my essential oils have sure made a difference for me along with my vitamin plan.  If you'd like to know what Alison and I are using let us know through comments or contacting us. We'd love to share our favorite essential oils we use with you!
Thanks for reading.  It's great to have you here.  Stay healthy and happy.
DISCLAIMER: THIS WEBSITE DOES NOT PROVIDE MEDICAL ADVICE
The information, including but not limited to, text, graphics, images and other material contained on this website are for informational purposes only. The purpose of this website is to promote broad consumer understanding and knowledge of various health topics. It is not intended to be a substitute for professional medical advice, diagnosis or treatment. Always seek the advice of your physician or other qualified health care provider with any questions you may have regarding a medical condition or treatment and before undertaking a new health care regimen, and never disregard professional medical advice or delay in seeking it because of something you have read on this website.