Raspberry Sugar Muffins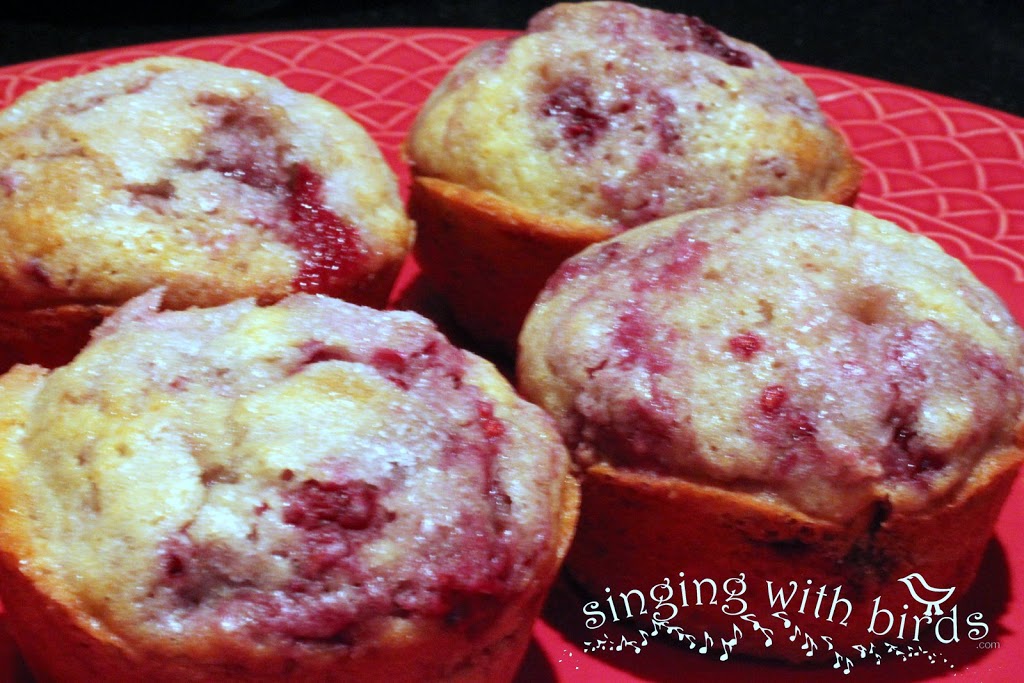 Top of the muffin to ya-all!  Raspberry Sugar Muffins are such a treat.
So if you need a little sweet somethin', somethin' to pair with eggs, soup, salad, or a cup of warm herbal tea, here you go.
Raspberry Sugar Muffins
You'll love these babies that will bring back memories of picking fresh raspberries on warm summer days.  As an added bonus they are so pretty with glistening crusty sugar tops.
Besides how amazing these muffins taste, your home will smell holiday divine!
This berry filled bite is for you my friends, especially those who are experiencing a snowy day.
Raspberry Sugar Muffins
The sugar gives these muffins a shiny, crunchy top and the raspberries and tender crumb will make Raspberry Sugar Muffins a quick favorite
Recipe type:
Bread and Muffins
Ingredients
2 cups flour
¾ cup sugar
2 teaspoons baking powder
¼ teaspoon salt
½ cup (1 stick) butter
¾ cup milk
1 large egg
¼ teaspoon vanilla extract
1-1/2 cups fresh raspberries (frozen works too)
Instructions
Heat oven to 400 degrees.
Line a 12-cup muffin tin with paper liners or spray with non-stick cooking spray.
In a medium bowl, combine 1-3/4 cups of the flour, ½ cup of sugar, the baking powder, and salt. Add the butter and combine.
In a second bowl, whisk together the milk, egg, and vanilla. Gradually add the milk mixture to the flour mixture and stir until just combined; the batter will be lumpy.
Toss the berries with the remaining flour in a bowl. Gently fold the berry mixture into the batter.
Fill each muffin cup ¾ full. Sprinkle the batter with the remaining sugar.
Bake for 17 to 20 minutes or until a toothpick inserted into the center of a muffin comes out clean. Transfer pan to a wire rack to cool for ten minutes.
Try this muffin recipe with blackberries or blueberries instead of raspberries.  Or use a combination of all three.  For extra crunchy muffin tops, sprinkle a little more sugar on.
Merry and Bright to all…