Skillet Bacon Swiss Dip with Bread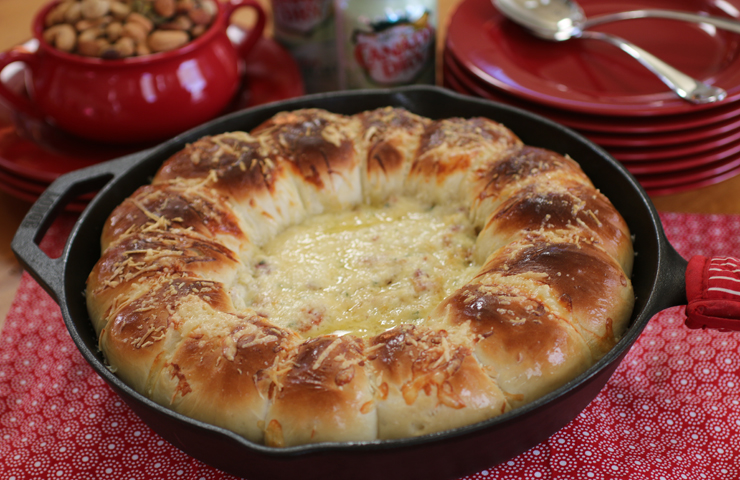 Happy Super Bowl Week everybody. Are you ready for Skillet Bacon Swiss Dip with Bread?  I'm sharing my finale as we celebrate a great season with "football food." I love the new foodie trend, where hot dip is surrounded by a pull-a-part bread ring and this one is unbelievably great.  To avoid a fumble, I'll be pulling mine out of the oven, hot and cheesy, right after the kick-off!
Skillet Bacon Swiss Dip with Bread
I am serving this at our family party, but it would be so yummy at a shower, or use it for a show-stopping starter for any celebration or dinner party.
I think Bacon Swiss Dip is my favorite hot dip recipe and it's amazing with the ring of rolls. You can use any kind of a hot dip, so get creative!  Also, use purchased roll dough or make our own.  I used my awesome bread machine to make mine and it is so good. I've included my Bread Machine Dinner Roll recipe in this post along with my Bacon Swiss Dip recipe. If you buy frozen bread dough, just plan to let your rolls thaw and rise for about 5 hours, following the package directions.
Start by filling your bread maker with the ingredients for the rolls and set it to dough cycle.  In about 1-1/2 to 2 hours, (depending on your machine), you will have perfect dough all ready to use. I so love my bread machine! Pour about a tablespoon of oil on your clean countertop and lightly cover your dough ball with oil.  Cut it into quarters and then cut each into 4 pieces, 16 pieces total.
Now the fun begins.  Use a large 10.25″ cast iron skillet and spray with a non-stick spray or lightly grease. Place a bowl in the center and begin rolling your dough into balls. Place rolls side-by-side around the skillet, I used 14.  Cover with a clean towel, put in a warm place and allow rolls to rise for 30 to 40 minutes or until double in bulk. (Dough is ready if indentation remains when touched.)
While the rolls are rising, make the dip by combining mayonnaise, 1-1/2 cups of the cheese, and the cream cheese in a microwave safe mixing bowl.  Mix it really well and then add in the green onions and bacon.  Preheat the oven to 375 degrees. Just before the rolls are ready, pop the dip into the microwave and cook for 1 minute on high power.
Next remove the bowl from the middle of the skillet.  Be careful, you don't want to deflate your rolls.  Pour dip into the center and sprinkle with remaining cheese.
Bake for 15 minutes at 375 degrees. Turn your oven to broil. Watch carefully so you don't burn your rolls, and leave your skillet under the broiler until the cheese and bread are light golden brown.  Remove from oven and brush roll tops with melted butter. Serve immediately with a spoon to carefully scoop a roll with some hot dip.
Skillet Bacon Swiss Dip with Bread
My new best party, football food, Skillet Bacon Swiss Dip with Bread, will give you rock-star status! It's amazingly delicious, creamy, cheesy, and bacon-y good...enjoy.
Ingredients
For Bread Machine Dinner Rolls
1 cup water
2 Tablespoons butter, softened
1 egg
3-1/4 cups better for bread flour
¼ cup sugar
1 teaspoon salt
3 teaspoons bread machine or active dry yeast
Butter, melted, if desired
For Bacon Swiss Dip
4 ounces mayonnaise
2 cups Swiss cheese, shredded, (divided)
8 ounces cream cheese
4 green onions, sliced
10 strips crisp bacon, crumbled
Instructions
For Bread Machine Dinner Rolls
Measure carefully, placing all ingredients except for melted butter in bread machine pan in the order recommended by the manufacturer. Select dough cycle. Do not use delay cycle.
Remove dough from the pan. I pour about 1 tablespoon of oil on my clean countertop and place my dough on it. Cover the surface lightly with oil and then cut it into quarters. Next cut each quarter into four pieces and roll it into a ball.
Lightly grease a 10" cast iron skillet and place a bowl in the middle of it upside down. Place 14 rolls around the outside edge of the skillet, (between the skillet and the bowl). Cover with a towel and place in a warm place to rise, about 30-40 minutes, until double in size.
Remove the bowl and fill the center with Bacon Swiss Dip.
For Bacon Swiss Dip
Preheat oven to 375 F.
Set cream cheese out to soften to room temperature and further soften in microwave for 10 seconds, if necessary.
Place mayonnaise in medium microwave safe bowl. Next add 1-1/2 cups of swiss cheese, green onions, and bacon. Stir in softened cream cheese.
Place in the microwave and cook on full power for 1 minute.
Spread evenly into the center of the bread ring and sprinkle with additional cheese.
Bake for 15 minutes.
Set the oven to broil and broil to brown the cheese and rolls. Watch carefully so you don't burn it.
Remove from oven and serve immediately.
Are you planning a party?  What's on your menu?  Thanks for reading and keep in touch with us through social media.  We like old and new friends. Let us know how you like our Skillet Bacon Swiss Dip with Bread and please pin it and share with your friends.