Tuscan Sausage Salad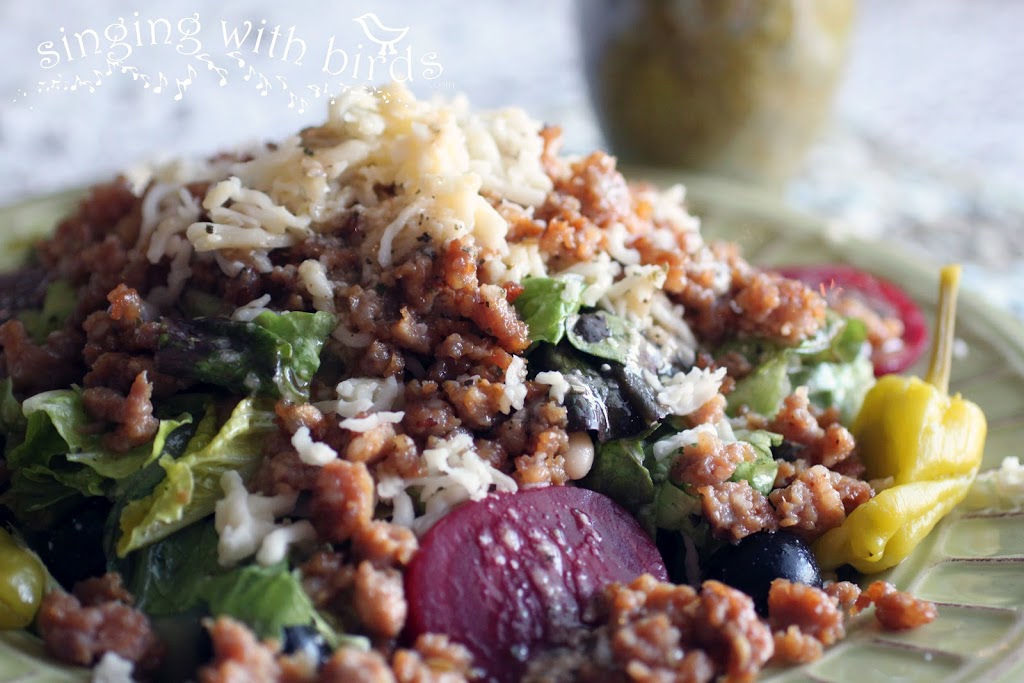 I'm down with Spring Fever.  It's time for an amazingly divine, Tuscan Sausage Salad.
I am ready to lighten it up, offering fresh, crisp, salads, while spending less time in the kitchen and more time in sunshine!  Now you know how I adore my Cheery Kitchen, but I love flowers and gardening almost as much.  I crave Italian food and wanted to create a composed salad with sausage and white beans.  It was so yummy and we will enjoy it out on the patio all summer long.
Toss lettuce, cucumber, white beans, olives and beets with dressing.  Place on serving plates.
Here's the low-down.  Whip out your salad spinner and rinse, dry and chill lettuces.  About 30 minutes before serving, cook and crumble sausage, draining any fat.  Shred cheese, and drain beans, olives, and beets.  Peel and cube cucumber.  Next, toss all but cheese and sausage with dressing and divide between plates.  Sprinkle with cheese, then warm sausage, topping with a little more cheese on top.  Garnish with peppers.  Be sure to have extra Olive Garden Salad Dressing for drizzling on top.  
Top with shredded mozzarella cheese, warm sausage, and another sprinkle of cheese on top.
Mama Mia!  You're going to love this one…. thanks for your visit friends.
Tuscan Sausage Salad
When I'm craving Italian food, but can't give in to all the carbs in pizza or pasta, this is my favorite go to salad. It is loaded with all of my favorite things, white beans, sausage, artichoke hearts, olives, cheese, and more! Drizzle with Olive Garden Dressing.
Ingredients
½ heart of romaine lettuce
½ red-leaf lettuce
½ iceberg lettuce
1 pound mild Italian sausage
½ pound mozzarella cheese, grated
2 cucumbers, peeled and cubed
1 (15 ounce) can white beans, rinsed and drained
1 (15 ounce) can pickled beets, drained
1 (15 ounce) can whole black olives
1 (16 ounce) jar peperoncini (peppers)
Instructions
In a large frying pan, cook and crumble sausage. Drain fat and keep warm.
Rinse and dry lettuce and tear into bite size pieces.
Peel and cut cucumber into bite size chunks.
Rinse and drain beans, olives and beets.
Toss all but sausage, cheese and peppers in a large bowl with dressing.
Place salad on serving plates and sprinkle with cheese.
Next add some warm sausage and top with a little more cheese.
Garnish with peperoncini peppers.
Nutrition Information
Serving size: 6-8
Sei il migliore!