Apple Bacon Salad
Perfection on a plate, Apple Bacon Salad is tangy and tantalizing, my new favorite salad for sure.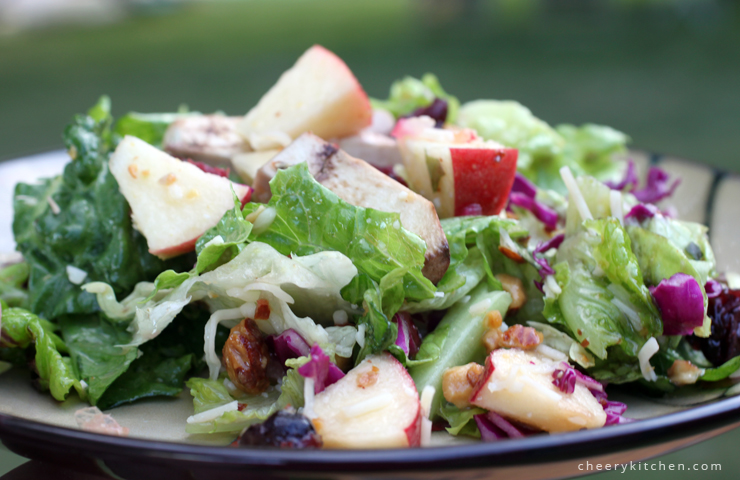 At first I thought maybe it was a girly salad, light and luscious, but all the hunk of love men in my family enjoyed it as much as the females did.

Apple Bacon Salad
I served it at our family reunion with a yummy potato bar and my family said it was the best part of the meal.  I love everything in it, along with the apples and bacon it's filled with candied almonds, shredded red cabbage, parmesan cheese, mozzarella cheese, and the most delicious, tangy red onion vinaigrette.
Early in the day I chopped my red onion, fairly fine, and made the dressing, Red Onion Vinaigrette, in a blender, and chilled it in the refrigerator.
Then I washed and tore romaine and red leaf lettuce, added a little baby spinach, chopped my fresh mushrooms, finely chopped red cabbage, and then chilled them in a big salad bowl.  I cooked my bacon and let it cool and then crumbled it.  Then I candied the almonds and let them cool.  Just before serving chop and add the apples, add the cheeses, and toss with the red onion vinaigrette.
I'm thinking Apple Bacon Salad would be a superb, enticing, bed for sliced grilled chicken or shrimp.  It's so delicious, it really is, and I'd really love to know what your ideas.  Please let me know what you like and how you'd adapt this recipe.  Your ideas and suggestions are always appreciated, and here's a pin for you too.  Thanks so much for stopping by!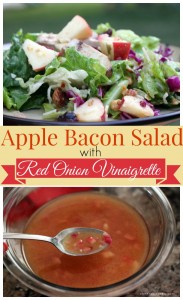 Apple Bacon Salad
Perfection on a plate, Apple Bacon Salad is zesty and tantalizing, my new favorite salad for sure.
Ingredients
For Dressing
1 cup red wine vinegar
½ cup sugar
1 small red onion, chopped
2 teaspoons dry mustard
1 teaspoon salt
½ cup canola oil
For Salad
8 ounces sliced almonds, candied
3 tablespoons sugar
2 apples, chopped
1 large red leaf lettuce, torn in pieces
2 heads romaine lettuce, torn in pieces
1 small bunch baby spinach, tails removed
8 ounces sliced fresh mushrooms
8 ounces shredded mozzarella cheese
8 ounces shredded parmesan cheese
½ cup dry cranberries
1 pound bacon, cooked and crumbled
Instructions
For Dressing
Combine vinegar, sugar, dry mustard, and salt in a blender; add oil in a fine stream processing constantly.
Add the chopped onions, mix and chill.
For Salad
Cook almonds with sugar in a skillet over medium heat until sugar caramelizes and the almonds are golden brown stirring constantly. Remove to waxed paper to cool.
Toss the red leaf lettuce, romaine, and spinach, mushrooms, bacon, mozzarella, parmesan, cranberries, and apples together in a large salad bowl.
Add dressing just before serving.
Garnish with some cheese and bacon.