Avocado Basil Pesto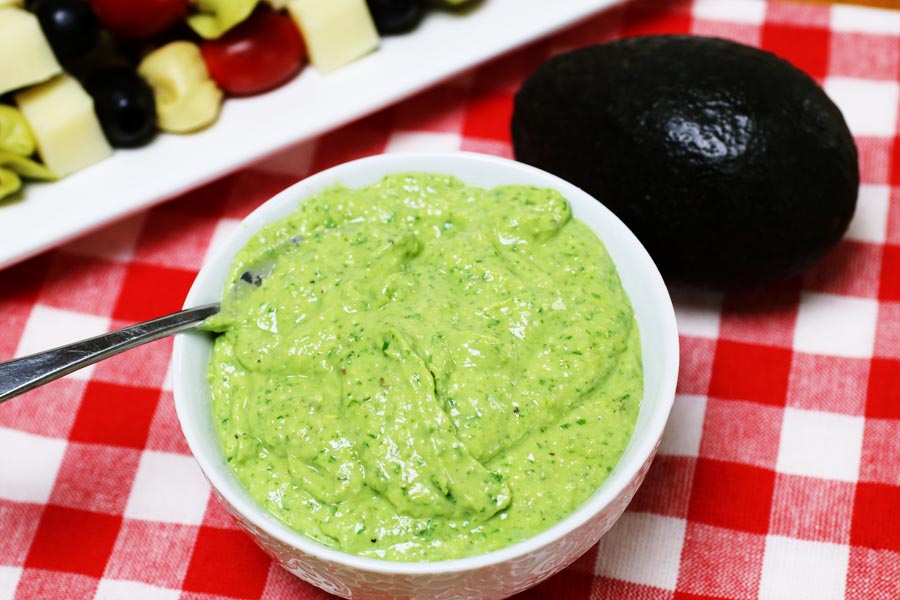 Heart-healthy and rich, Avocado Basil Pesto is a fabulous sauce you will use in so many ways!
Unlike most pestos, it uses less oil thanks to the creamy consistency of the avocado.  Try it with pasta, veggies, as a dip, and slather as a sandwich spread.  I also like to thin it a little and use it as a delicious fresh dressing on salads.
Almost as much as the taste, I love that I can make it in 5 minutes for about $5.00.  My only caution is that it turns brown as it ages and so I usually don't make it in large amounts, just enough to enjoy in a day or two.
"Pesto is the quiche of the 80s."
Traditional Italian pesto is made strictly with basil, pine nuts, Parmesan, garlic, and good olive oil. It's a classic sauce. However you can switch out the basil for another handy herb or leafy green, replace the pine nuts with a different favorite nut, or swap the Parmesan for pecorino or asiago.  In my pesto, I replaced some of the oil and the cheese with creamy avocado. Here's the basic formula; green + nuts + cheese + olive oil, but be daring and creative with what you like!
Pesto is a generic term for anything that is made by pounding, and yes, you can create Avocado Basil Pesto with a mortar and pestle. My question is why would you when you can make it in a 11-cup food processor or blender in no time flat? 
Combine avocado, (love this cool tool), basil, pine nuts, and garlic in a food processor or blender. With the machine running, slowly stream in the lemon juice, olive oil, and water if needed to achieve a smooth pesto. Puree until completely blended and creamy. Season with salt and pepper to taste. Use immediately or keep refrigerated for 1-2 days.