Chocolate Caramel Oatmeal Chews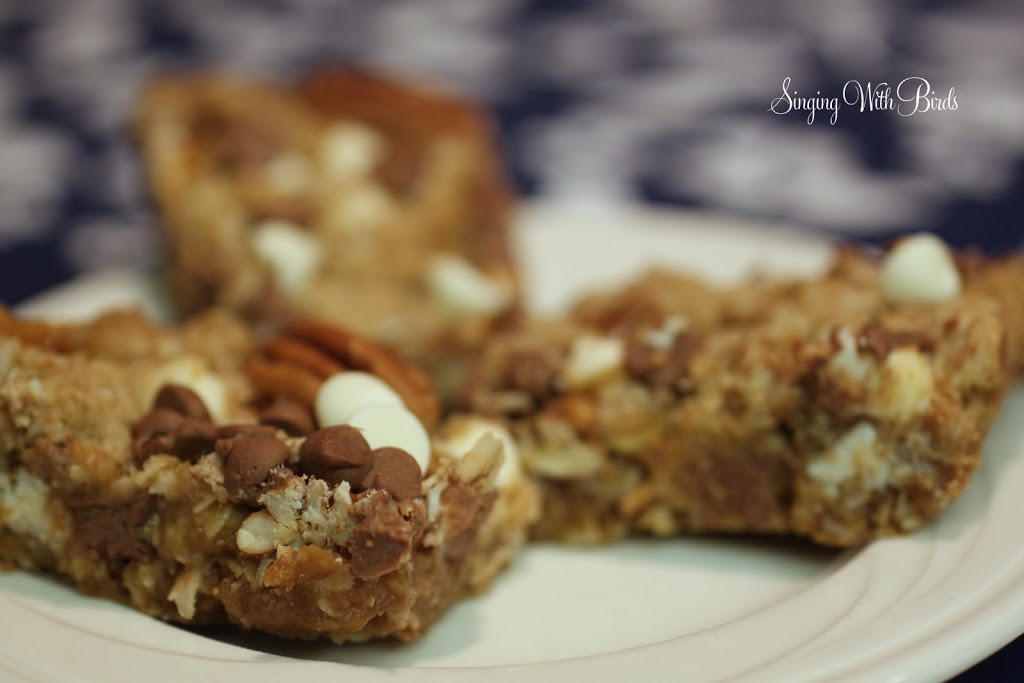 Happy Fall everybody!  I hope you are ready for some awesome Chocolate Caramel Oatmeal Chews, the best cookie bar I've had in a long time, seriously so good!
These bars are perfect for football tailgating, Fall picnics and holiday parties.  I know it's surprisingly the first day of Fall, it sure feels like summer here,  but before we know it, the leaves will be falling.
Chocolate Caramel Oatmeal Chews
Here in Boise, we've got the blues!  Our Boise State Broncos are welcoming Tulsa on the "Big Blue" this coming Saturday night.  We have friends joining us for the weekend, so I'm busy fixing football food.
My sister, Kim shared Chocolate Caramel Oatmeal Chews at our annual Girl's Week in Colorado this summer.  Warning, these are super addictive.  It's the chewy oatmeal combined with chocolate, caramel, nuts….oh, yum.  They go together super quick, just layer them up, pop them in the oven, cool and cut and you'll have an easy pack and serve treat you'll find yourself wanting to share with all your fans.
Chocolate Caramel Oatmeal Chews
BOOM! Thanks to my sister Kim who shared her favorite new cookie bar recipe with me. My family and friends are crazy for them!
Ingredients
2 cups quick or old-fashioned oats
1-3/4 cups all-purpose flour, divided
1 teaspoon baking soda
¾ cup packed brown sugar
1 cup butter or margarine, melted
1 cup butterscotch caramel ice cream topping (I use Mrs. Richardson brand)
½ cup pecans (chopped or whole)
6 ounces semi-sweet chocolate chips (or a mix of white or dark chips)
Instructions
Preheat oven to 350 degrees.
Spray 9 x 13" pan with nonstick cooking spray.
Combine oats, 1-1/2 cups of flour, brown sugar and baking soda in a bowl. Add butter; mix until crumbly. Reserve 1 cup of crumb mixture. Press remaining crumb mixture into bottom of pan.
Bake 15 minutes.
Combine ice cream topping and remaining ¼ cup flour in a small bowl; whisk until smooth.
Drizzle over bottom crust; carefully spread to the edges.
Combine pecans and reserved crumb mixture in small bowl. Sprinkle crumb mixture and chocolate morsels evenly over caramel mixture.
Bake 15 minutes or until golden brown and bubbly.
Remove to cooling rack. Cool Completely. Cut into bars.
After making these, I started dreaming of how I'd change them up.  I'd love to hear your ideas.  It's always like a warm hug having you stop by.  Have a great first Fall weekend and remember to spread the love.