Cream Cheese Chicken Chili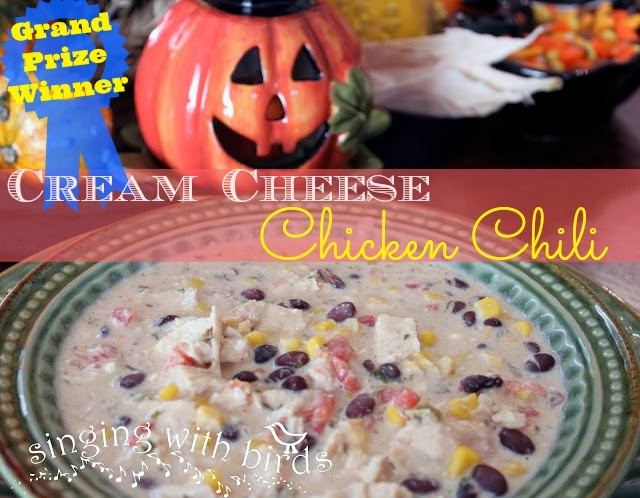 Happy Fallidays All!  I hope your Halloween was awesome.  I want to share a winning recipe with you.
Cream Cheese Chicken Chili was awarded, "tastiest chili," at our Trunk or Treat party this week.  It's so easy, I felt a little guilty accepting the prize.
Cream Cheese Chicken Chili
I think this chili has just the right amount of chicken chunks, beans, tomato, corn, chilies, creamy, and spice.  It really has become of our very favorite soups, and it's not just ours.  One friend shared with me that her children beg her to make it and that makes me so happy.  Moms love it because it's so easy to make and kids love it, talk about a win-win!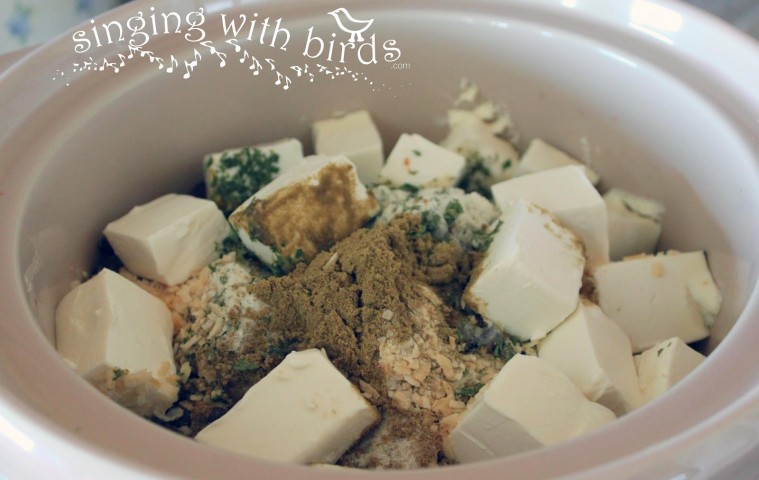 Here's all you do!
Add all the ingredients to your slow-cooker

,

leave it for 6 to 8 hours, and you are party ready

.  This is a great recipe to double and triple for crowds and parties.
Cream Cheese Chicken Chili
Enjoy what has become a treasured and requested recipe among my family and friends. We will never starve as long as I keep all the ingredients in my food storage!
Ingredients
2 chicken breast, (still frozen works)
1 (10 oz.) can Rotel tomatoes
1 (15 oz) can whole kernel corn, do not drain
1 (15 oz) can black beans, drained and rinsed
1 package Ranch dressing mix or (3 Tablespoons)
1 Tablespoon cumin
½ to 1 teaspoon chili powder*
1 onion, chopped or (1/3 cup minced onion)
1 (8 oz.) package cream cheese, cubed
Instructions
Put the chicken in the crockpot.
Top with undrained tomatoes, corn, and rinsed black beans.
Add ranch dressing, cumin, onion and chili powder.
Stir to combine then top with cubed cream cheese.
Cook on low for 6-8 hours, stirring once or twice to blend in the cheese.
Before serving remove the chicken and chop to bite size pieces.
Notes
I have found the type of chili powder used makes a difference. If you are using a fresh, strong, one like Penzey's Chili 3000, you may want to start with ½ teaspoon. If you are a wimp like me and some of my grankiddies, cut back. For those like my kids that enter fresh chili take downs, you may want more!


I recently made Cream Cheese Chicken Chili for a tailgate party and quadrupled the recipe filling my 12 quart roaster oven. It is delicious served over rice. You may also garnish with fresh, chopped, cilantro. For my Trunk or Treat friends, I doubled the recipe almost filling my 6 quart crock-pot.
Loving the chilly Fall nights!  Thanks for flying by….what do you like to serve on Halloween?