Shrimp Mazatlan
Before you begin stuffing that turkey, fire up your grill and make to die for Shrimp Mazatlan!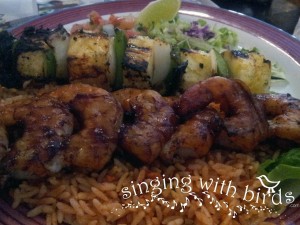 I just returned from our annual Girl's Week where I partied with my mom and 5 sisters in Scottsdale, Arizona. I would have a fabulous time with this group anywhere, but there is just something about the desert.  I love the light air, amazing mountains, high clouds, and Mexican food.  I would eat it every day if I could!
Shrimp Mazatlan
I'm still dreaming about Tia Rosa's, in Phoenix, where we had lunch.  Their "flying saucer" chicken tostadas are so fresh and yummy.  My Mom ordered a specialty of the house, Shrimp Mazatlan, grilling skewers with shrimp, pineapple, peppers, and onions, that are basted with ancho butter.  They serve it over rice and garnish with radishes, limes and salsa.  Special thanks to them for sharing their recipe for Shrimp Mazatlan and their Mexican Rice too!
Shrimp Mazatlan
Shrimp and veggies grilled with a spicy, buttery, sauce, then bedded on Mexican rice..delicioso!
Ingredients
7 large frozen shrimp
1 cup kosher salt
1 cup boiling water
1 quart iced water
1 green bell pepper, cut into 1-inch squares
1 white onion, cut into 1-inch squares
1 fresh pineapple, cut into 1-inch triangles
2 (10-inch) bamboo skewers, soaked in water at least 30 minutes before using.
For the rice
¼ cup peanut oil
2 cups rice
4 cups water
1 cup tomato sauce
1 cup onion, diced
1 tablespoon salt
1 teaspoon granulated garlic
⅛ cup chives, chopped
⅛ cup carrot, chopped
½ teaspoon black pepper
½ cup butter
½ cup honey
2 teaspoons Mrs. Dash
1 teaspoon Old Bay seasoning
1 teaspoon Ancho chile powder
Instructions
Pour boiling water in a bowl. Add kosher salt; stir until salt is almost dissolved. Add iced water; stir until salt has completely dissolved. Add shrimp; let stand 45 minutes. Drain liquid; rinse, peel and devein shrimp. Place shrimp on a skewer.
Place bell pepper, white onion and pineapple onto the second skewer.
In a large stock pot, heat oil and rice; stir until rice turns golden brown, about 10 minutes. Add water, tomato sauce, onion, salt and granulated garlic. Stir once, then cover and bring to a boil; cook 2 minutes. Stir once, then reduce heat to simmer and cook until most of the liquid has been absorbed into the rice, about 20 minutes. Pour rice onto a baking pan; spread evenly. Stir rice every 5 minutes until it has cooled completely, about 20 minutes. Stir in chives, carrots and black pepper. Store rice in the refrigerator.
Combine butter, honey, Mrs. Dash, Old Bay seasoning and Ancho chile powder. Heat mixture in the microwave for 1 minute; stir to combine.
Place vegetable skewer on the heated grill; baste with butter mixture. Turn and baste vegetable skewer often until it caramelizes, about 10 minutes.
Place shrimp skewer on the grill. Baste shrimp with butter mixture. When shrimp begins to turn pink, turn and baste again. When shrimp are completely pink, remove shrimp from the grill. Place shrimp and vegetables over a bed of rice.
Serve with your favorite salsa, lime and radishes.
Gracious amigas.  Now… on to the bird!