Creamy Brown Sugar Syrup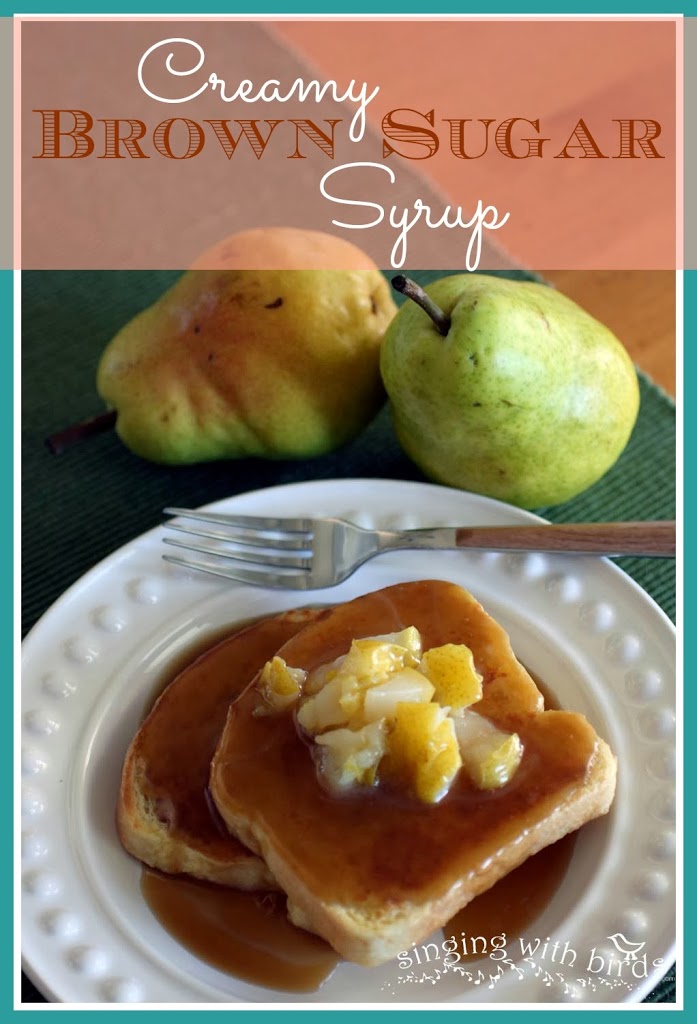 Yes, you'll want to use this Creamy Brown Sugar Syrup in moderation, but a little dab will do you.
Add a drizzle to french toast with roasted pears, (like I did), or make anything with apple or pumpkin, pound cake, pumpkin pie, or ice-cream sing with this incredible stuff.  It's great served in a little dipper crockpotthat keeps it warm for apple or pear dipping. If you don't like something, pour a little Creamy Brown Sugar Syrup on top, and I promise you will!
Creamy Brown Sugar Syrup
Ingredients
1 stick of butter
1 cup of brown sugar
1 cup of heavy cream
1 tablespoon of vanilla
2 tablespoons of light corn syrup
½ teaspoon of baking soda
Instructions
Bring butter, brown sugar, cream, vanilla and corn syrup to a boil.
Boil for 10 seconds.
Remove from heat and add baking soda.
Stir well and serve hot.
I hope you are lovin' the last fruits of Fall like we are.  We have had a box of pears ripening slowly in our garage for several weeks now.  The colorful trees are amazing and the temperatures are just right.  Do you just wish autumn could go on forever?
Thanks for stopping by.