Creamy Curry Chicken Salad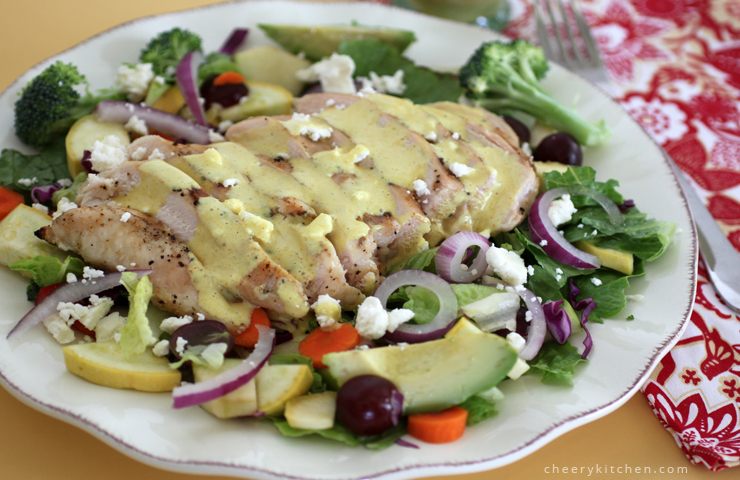 Looking for a bright and delicious salad?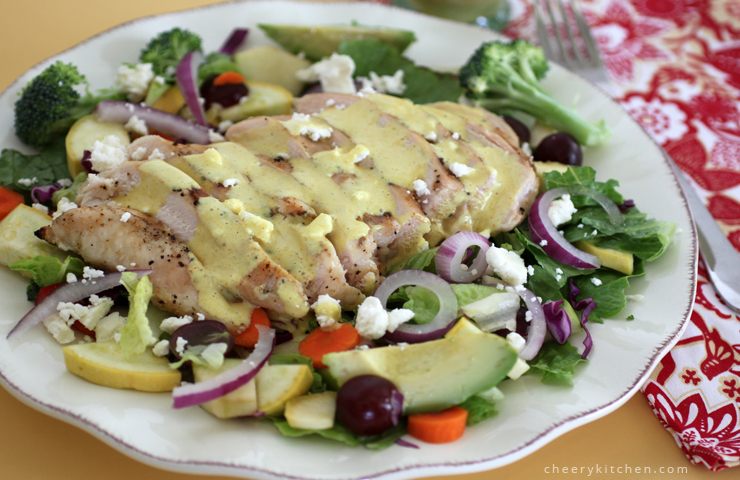 Creamy Curry Chicken Salad is so flavorful, packed with fruits, vegetables, and topped with juicy, grilled chicken breast. Drizzle amazing creamy curry dressing over it and par-tay!
Creamy Curry Chicken Salad
It's fair to say that chicken and curry just go together.  It really is exceptional though in this fresh and healthy salad, a full meal, for sure.  I use my Vita-mix Blender to mix the creamy curry dressing and place it in the refrigerator to chill a few hours before serving.
Creamy Curry Chicken Salad is best served as a composed salad, so I plan one grilled chicken breast per salad.  All you need to do is wash and chop, (and if you make big salads as often as I do, you'll love this inexpensive knife) romaine, apples, grapes, broccoli, carrots, squash, avocado, and onions.  Layer them on 4 dinner plates while your chicken is on the grill.
My "Grill Master," Chas, loves his gas grill.  He keeps it really clean, and preheats it on high.  Before he grabs the chicken, I've washed and seasoned, he turns it to medium-low heat, the temperature gage reads 350 degrees.  He grills the chicken for 10 to 15 minutes per side, flipping it only once.  He removes it to a platter we cover and let rest for about 10 minutes.  Before slicing your chicken double check the internal temperature making sure it's at 165.  Keep in mind that the chicken continues to cook after it comes off the grill.  I slice it on the diagonal, arrange it on top of each salad, drizzle with a little dressing, and garnish with feta cheese.  Don't you think it's pretty?
Creamy Curry Chicken Salad
Creamy Curry Chicken Salad is packed with flavorful fruits and vegetables and topped with juicy grilled chicken breast. You'll adore the creamy curry dressing drizzled over anything!
Ingredients
For Salad
4 chicken breast, boneless, skinless
½ teaspoon Lawry's Seasoning Salt
½ teaspoon Lawry's Lemon Pepper
1 head of romaine, cleaned and chopped
1 cups Granny Smith apples, chopped
1 cup red grapes, sliced in half
1 cup broccoli, sliced
1 cup yellow squash, sliced
2 carrots, sliced
1 cup red cabbage, thinly sliced
1 avocado, sliced
½ red onion, thinly sliced
1 cup feta cheese, crumbled
Creamy Curry Salad Dressing
2 cups mayonnaise
⅓ cup honey
1-1/2 Tablespoons yellow curry powder
2 teaspoons minced garlic
1-1/2 teaspoon minced garlic
1 teaspoon salt
1-1/2 limes, juiced
Instructions
For Salad
Preheat gas grill on high. Wash chicken breast and dry with paper towel. Season with seasoning salt and lemon pepper. Reduce grill heat to medium to low heat and place chicken on grill. Cook for approximately 10 to 15 minutes per side. Pull the chicken from the grill, cover and keep warm for 10 minutes.
On 4 dinner plates, layer romaine, apples, grapes, broccoli, squash, carrots, cabbage, avocado, and onion.
Check internal temperature of chicken and then slice chicken on the diagonal. Arrange 1 chicken breast on top of each salad.
Drizzle with Creamy Curry Salad Dressing, garnish with feta cheese and serve.
For Dressing
Put all ingredients in a blender. Combine until creamy.
Keep refrigerated.
Entree salads have become a main-stay in our diets year round.  Now that fresh squash, grapes, and a myriad of seasonal fruits and veggies are available year round, how would you change up Creamy Curry Salad?  I'm sure you've got some great ideas.  Thanks for checking in.  Please let me know your thoughts.
Cheers!