Curried Rice Pilaf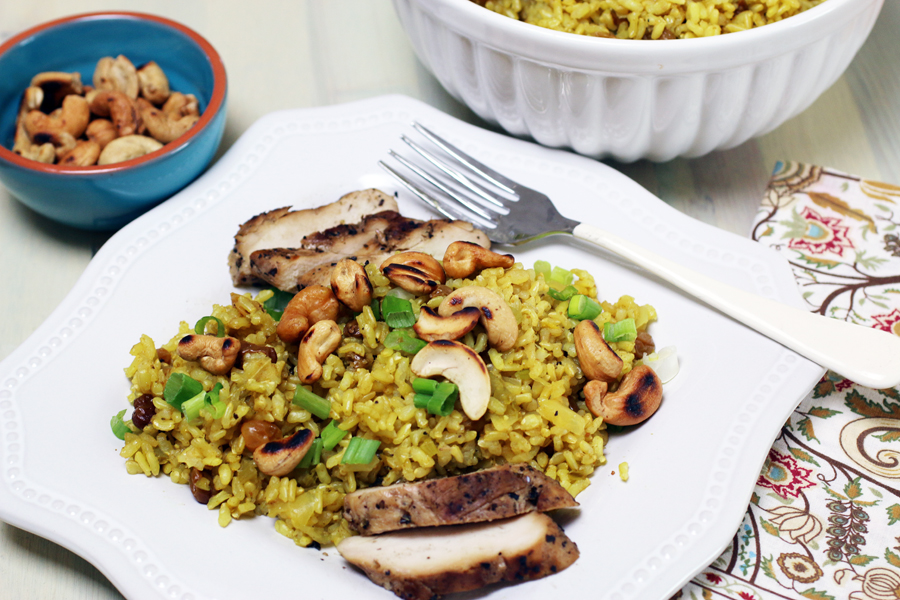 Pilaf is a dish in which rice is cooked in a seasoned broth. In some cases, the rice may also attain its brown color by being stirred with pieces of cooked onion, as well as a mix of spices. Depending on the local cuisine, it may also contain meat, fish, vegetables, pasta, and dried fruits.
Here's a primer for how you can create your own with all of your favorite ingredients.
Make Your Own Rice Pilaf:
Step 1: Sauté the Aromatics
Why is pilaf so much more flavorful than ordinary steamed rice? It all starts with aromatics—onion, garlic, fennel, carrot, or shallot. In a medium saucepan, begin by cooking ¾ cup aromatics (always onion, plus any of the others if you've got 'em) in 2 Tbsp. olive oil or unsalted butter over medium-high heat until soft and onion is translucent. Season with salt andpepper.
Step 2: Send in the Spices!
Next, customize your pilaf with ground spices. Cook until fragrant, 30 seconds or so. Savory spices like curry, coriander and cumin work well, or try warmer ones like cinnamon and allspice. Choose no more than three spices so the flavors stay distinct, and add no more than ½ tsp. spices total per cup of rice (less for strong flavors like cinnamon). The goal is to perfume the rice, not overpower it.
Step 3: Time for the Rice
Once the base is ready, add 1 cup long-grain rice, such as jasmine or basmati. Cook, stirring, until the grains are well-coated and some look translucent and the whole mixture smells toasty, about 3 minutes. Toasting the grains until they're coated in oil and start to look translucent helps them separate so they won't clump. (It adds flavor, too.)
Step 4: Boost Flavor with Broth
Another great divide between plain rice and pilaf? The cooking liquid. Here, water is replaced with more potent broth. Add 1½ cups chicken, vegetable, or seafood broth (a splash of wine doesn't hurt, either), season with salt and pepper, bring to a boil, and reduce to a bare simmer. Cover and cook until liquid has been absorbed, 12–15 minutes.
Step 5: Let It Rest
Remove from heat and fluff the rice with a fork. Then cover the pot with a clean dish towel and seal with the lid for 10 minutes. (The towel absorbs steam, so the rice stays fluffy.)
Step 6: Finish with Flair
You're not quite done yet! Before serving, fold in 2 Tbsp. fresh tender herbs (cilantro, green onion, parsley, mint, and/or chives) for brightness and a handful of chopped toasted nuts (almonds, pecans, pistachios, pine nuts, cashews, or hazelnuts) for crunch. In a sweet mood? Throw in a few plump currants or raisins, or even craisins.  (I love using craisins in autumn). This is your pilaf!