Jan Hagel Cookies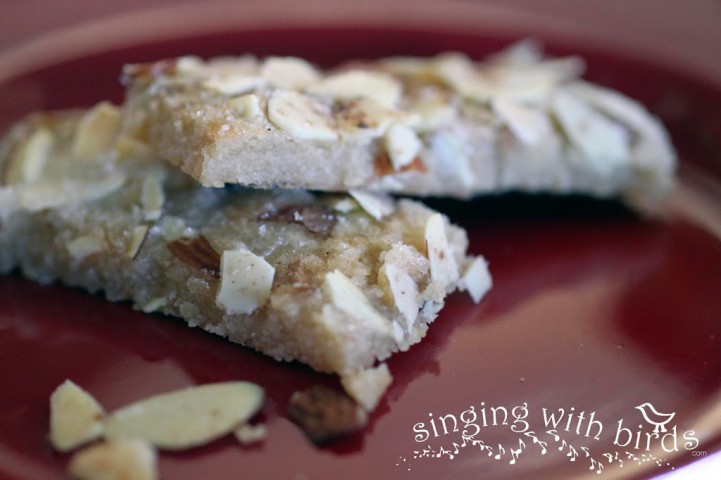 Hello friends!  Here's a Dutch treat…
(pronounced Yahn Hahgel), is a memory from years ago.  At Folk Dance Festivals in Holland, vendors would sell this light, crisp, Dutch shortbread.
Jan Hagel Cookies
Dutch bakers would pull Jan Hagel Cookies out of huge ovens on full sheet cake pans.  Long lines of festival goers would be waiting to purchase their share which is a perfect accompaniment to a delicious drink.
Recently we attended a party hosted by our son and daughter-in-law in Washington.  One of their friends, Sam, brought a tray of Jan Hagel Cookies.  I was busy serving food when our son, Sean asked me, "Mom, have you tried this?"  I had not so he brought one to me.  The taste was divine and reminiscent.  "You've got to figure out how to make these Mom!"  Well, he was right.  I simply asked who brought them and Sam graciously provided the recipe her mother passed down to her.
Note:  I cut my Jan Hagel Cookies into 12 even bars and then cut those in half, creating 24 even rectangles.

Jan Hagel Cookies - Dutch Shortbread
I first had Jan Hagel Cookies at Folk Dance Festivals in Holland. Dutch vendors would sell their light, crisp, shortbread to long lines of festival fans.
Ingredients
1 cup butter
1 cup sugar
1 egg, separated
2 cups flour
½ teaspoon cinnamon
1 Tablespoon water
½ cup sliced almonds, or any chopped nut
cinnamon and sugar for sprinkling on top
Instructions
Grease a 9x13" pan.
Mix butter, sugar and egg yolk until creamy.
Stir in flour and cinnamon.
Spread cookie dough into pan and pat smooth.
Beat water and egg white until frothy and brush over dough with a pastry brush.
Sprinkle with nuts, cinnamon, and sugar.
Bake at 350 degrees for 20-25 minutes.
Cut into bars right after removing from the oven and carefully remove to a cooling rack.
Hope you each enjoy this lovely treat.  What's your favorite international delight?