Festive Four Grain Pilaf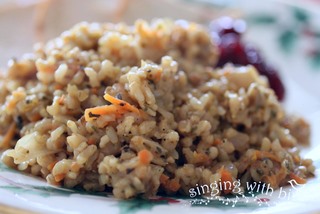 My Christmas gift to you is a nutty, side dish, my sister Kim shared, Four Grain Pilaf.
With colorful shredded carrots, onions, and chicken stock, it makes the most flavorful accompaniment to any meat or poultry you may be serving.  Brown and wild rice, pearl barley, and bulgar combined give it such interesting texture and taste.
This cheery little snowman is one of my favorite Christmas friends.  He is surrounded by vintage nutcrackers and yet in my mind he is a star.  I adore his shimmering snow, bright scarf and mittens, carrot nose and how he tips his top-hat each time I walk in the room, making me smile!
Four Grain Pilaf
Like my snowman, Four Grain Pilaf will be a sparkling star at your dinner party.
Toast sliced almonds in the oven and set aside.  In a
large Dutch oven
, sauté carrots, parsley, and onion in butter and olive oil until it's soft.  Add all the grains to the pot and sauté until it's lightly browned. Stir in both, herbs, salt, and pepper and stir.  Cover pot and simmer on low heat for 1 hour.  Garnish with toasted almonds and serve.
This time of the year I enjoy serving 4 Grain Pilaf with Cranberry Barbecue Chicken at holiday parties. It can even dress up sliced roast chicken when Mrs. Santa is wrapping Christmas up!
Today is my sweet sister, Kim's  50-something birthday along with my 2 year-old granddaughter, Elsie. Happy, happy birthday to two of my favorite gals, both shining stars, in my life!  Thanks too, Kim for sharing your amazing pilaf with me.  Now happy everything to my blog friends…here's the recipe for you!
HO! HO! HO!

 

Party On my friends…thanks for coming.