Pumpkin Crunch Dessert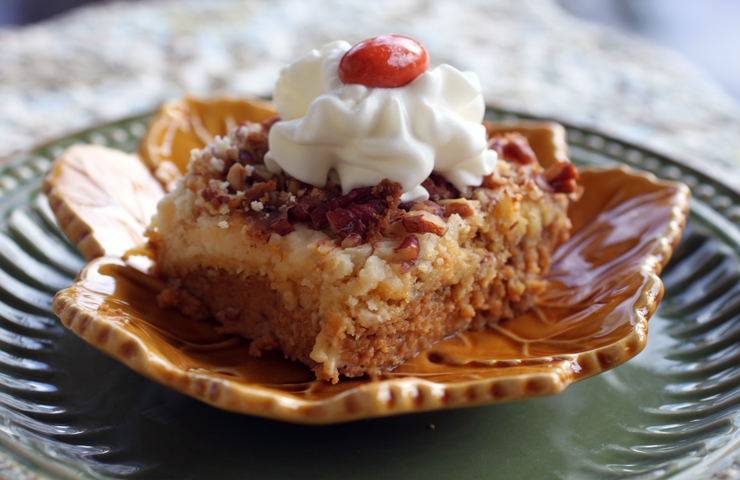 Need a dessert easier than pie?  Here's my holiday gift to you, this is in my 10 ten top recipes.  Really, you will be amazed at the ease of preparation and how yummy it is.  My family requests Pumpkin Crunch over a pumpkin pie…lucky for me!
Pumpkin Crunch Dessert
I'm not afraid of pie crust.  I have just found over time that my guests will "ooh and aah." about Pumpkin Crunch Dessert that goes together in a jiff, so I can enjoy time with them. Another benefit, it makes a great big pan, between 16 to 24 servings, comparable to four pies.  You'll see, it really is easier!
So all you need to do is preheat the oven to 350 degrees.  Now whip up your filling…just like pie…canned pumpkin, eggs, canned milk, sugar, and spices.  Prepare a
9×13″ pan
glass or metal works well, however if you use a glass pan, set your oven 25 degrees lower, at 325 degrees. Spray it with a non-stick spray.  Pour the filling into the pan.
Sprinkle your cake mix evenly over the top.  Don't dump it on top, please.  I like to use a yellow one, and yes for those who need a gluten free dessert, I have used a gluten free cake mix, (Betty makes the best). Now top with pecans, my husband likes them whole. Chop your pecans if you'd like, drizzle with butter, the easiest part, and it's ready for the oven.
Bake for one hour, remove from the oven and let it cool on a wire rack for 15 minutes.  Top with ice cream or a pretty swirl of whipped cream.  You can serve it warm and not quite so set, or let it cool and serve it at room temperature.  It really is like pie and you can make it earlier in the day or even the night before.  In that case, I recommend you keep it chilled till a couple hours before serving.
As I serve Pumpkin Crunch Dessert, I always think of the commercial where the cook is dusting flour off of her nose, as she passes out the Rice Krispy Treats.  I try not to let anyone know I like to soak in the tub while it's baking!!!!
Pumpkin Crunch
All of the deliciousness of pumpkin pie with much more ease. It's too yummy to save for just the holidays, please enjoy 12 months out of the year!
Serves:
16-20 generous servings
Ingredients
1 (29 oz.) can pumpkin
1 can evaporated milk
1 cup sugar
1 tsp. salt
1 tsp. cinnamon
½ tsp. ginger
¼ tsp. cloves
4 eggs
1 yellow cake mix*
¾ cup butter, melted
1-1/2 cups pecans, chopped
ice cream or whipped cream
Instructions
Preheat oven to 350 degrees.
Combine pumpkin, milk, sugar, salt, cinnamon, ginger, cloves and eggs.
Pour into a 9x13" pan that has been sprayed with non-stick spray.
Sprinkle cake mix over the top of filling, then pecans, and drizzle with melted butter.
Bake at 350 degrees for 1 hour.
It will hold together best if you let it sit for another hour before serving.
Serve with ice cream or whipped cream.
Notes
*For family and friends that require gluten free desserts, this one is perfect. Use a gluten free mix, (I like Betty Crocker) and really no one else would ever know!
I'd love to know what your easiest holiday recipe is.  How do you simplify your menu and what's worth lots of time and energy at your house?
Happy Thanksgiving and pinning to all of you!