Pantry Carousels = Perfection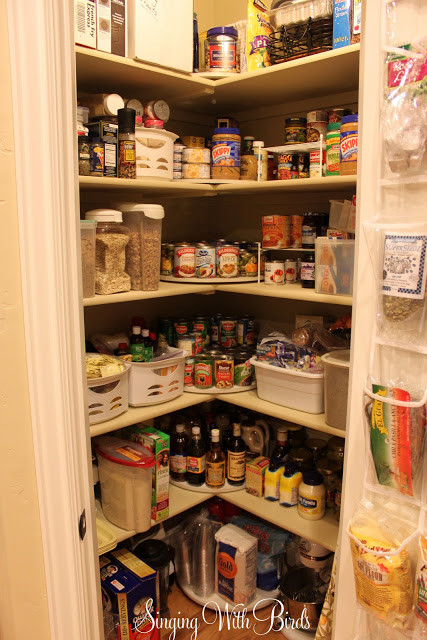 Moving in, I quickly unpacked food boxes willy-nilly!  I was just waiting for my new pantry carousels to arrive.
I featured these  last summer on my Top 5 Hits.   I implement many of the good ideas from all of your blogs.  Special thanks to Emily and her dad, Phil, for getting these to me from Texas.  The design and instructions are terrific and I paid $29.99 for each carousel.  It was an easy install.
I ordered five for the deep corners for each shelf.  They are wonderful quality and extra large.  I also ordered one for the floor to hold extra staple items.
Here's my pantry makeover and I'm so pleased.  None of my canned goods are lost in the corners.  I can see where everything is.  I think it will be easy to maintain too.
My guy, you know I love him, replaced the light bulb and cover with this awesome little motion bulb that faithfully turns it's self off and on.
Then he added this shoe pocket to hold all my odds and ends.  His grill lighter, matches, and gorilla glue are up top, genius!
He replaced the over the door hooks, (that came with this shoe holder), with small molly bolts that are designed for hollow doors.  I cut a slit to accommodate the door handle.  I can still use the pocket, no worries.  I'm so happy with it, I'm going to use them on several different doors.  Watch for updates later.
Now for my most recent challenge, my adorable little escape artist, Spencer.  I'm glad to be home blogging after he escaped on Tuesday.  I have been in recovery ever since he unbolted my big front door and just headed for home!  When I asked him where he was going he told me he needed to get Buttercup, his sweet, sweet dog.  Imagine if I'd been slapped in jail, charged with child endangerment.  I would have had to call my favorite defense attorney, his father!
H-E-L-P, how does grandma childproof the door?   Gramps is not supportive of anything that will "mar his new door."