All-American Cream Puffs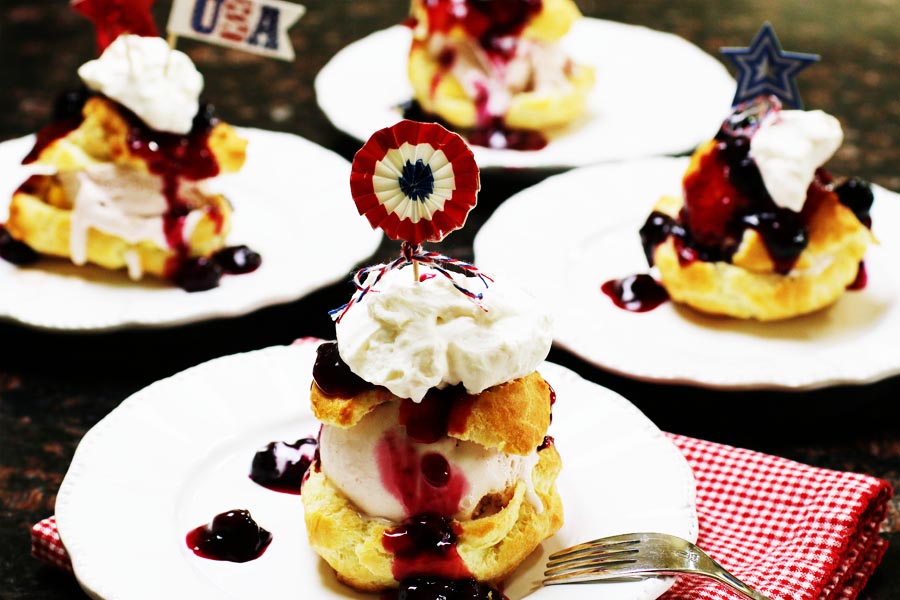 All-American Cream Puffs
Celebrate summer with All-American Cream Puffs. Bake some up, add a scoop of ice cream, drizzle with blueberry sauce, and add a dollop of cream, for a flag waving patriotic dessert everyone will cheer for!
Ingredients
Cream Puffs
1 cup water
½ cup butter or margarine
1 cup all-purpose flour
4 eggs
Blueberry Sauce
2 cups fresh or frozen blueberries
½ cup water
½ cup granulated sugar
2 tablespoons fresh lemon juice
2 tablespoons cornstarch, mixed with 2 tablespoons cold water
½ teaspoon vanilla extract
Zest of 1 lemon (about 1 tablespoon), optional
Strawberry Ice Cream
Instructions
Cream Puffs
Heat oven to 400ºF.
In 3-quart saucepan, heat water and butter to rolling boil. Stir in flour; reduce heat to low. Stir vigorously over low heat about 1 minute or until mixture forms a ball; remove from heat. Beat in eggs, all at once; continue beating until smooth.
On a parchment covered cookie sheet, drop dough by slightly less than ¼ cupfuls about 3 inches apart. Bake 35 to 40 minutes or until puffed and golden.
Crack the oven and allow puffs to cool in oven, about 30 minutes.
Blueberry Sauce
In a medium saucepan over medium heat, combine the blueberries, ½ cup of water, sugar and lemon juice. Stir frequently, and bring to a low boil.
In a small bowl, whisk the cornstarch with 2 tablespoons of cold water.
Slowly stir the cornstarch into the blueberries, taking care not to crush the blueberries. Simmer until the homemade blueberry sauce is thick enough to coat the back of a metal spoon, about 5 minutes.
Remove from heat and gently stir in vanilla and lemon zest.
To Assemble
Cut off top third of each puff and pull out any strands of soft dough.
Fill cream puffs with filling; replace tops.
Drizzle with blueberry sauce.
Top with a dollop of whipped cream.
Garnish with an American Flag
Serve immediately.
What's your favorite?
Have you got a summer dessert you love enough to share?