Artisan Ham & Cheese Bread
Got leftover ham?  Oh, have I got a treat for you!  Artisan Ham & Cheese Bread is an awesome way to use some of it, and it freezes well.
Alison and I often hear from people who don't think they can cook, well friends we know YOU can do this!  Get ready to surprise yourself…you're going to love, love, love, it!!!
First off, your home will smell amazing while it's baking, hopefully just in time for dinner.  Try pairing it with a bowl of steamy soup, a fresh veggie salad, or my man's favorite, an open faced sandwich, topped with fresh sliced tomatoes. Seriously, it's heavenly with everything!

Artisan Ham & Cheese bread is dotted with chunks of ham and cheese just waiting for a slather of soft creamy butter.  Oh, and I almost forgot to add it's ideal for toasting.
"Bread is the king of the table and all else is merely the court that surrounds the king. The countries are the soup, the meat, the vegetables, the salad, but bread is king." ~ Louis Bromfield
Artisan Ham & Cheese Bread
Simple, rustic, crusty, Italian, Artisan Bread is my favorite bread recipe ever.  Missing my New York bakery, I started whipping up my own crusty loaves and rolls, so easy a novice can make it!  I think the secret to a great crumb and incredible flavor is long fermentation. The amazing crackling crust that develops makes it hard for others to believe you made it.  Forget spending $6 plus on expensive artisan bread when you can make it for pennies.  Go ahead, give it a try!
It's fair to say making artisan bread is almost labor-free!  It takes about 5 minutes to mix up the dough, with no kneading at all.  I mix mine in a 8-quart food storage container with a Danish dough whisk, just until it's incorporated. Next, I just set the plastic lid over the top, (loosely it needs air to rise), set it on my counter and let it rise for 8 to 18 hours.
Add the ham and cheese and refrigerate, to chill it.  This makes it easier to handle, so I generally do this overnight, or bake within 2-3 days.  Remove it from the refrigerator and on a floured surface, divide the dough.  Now I lightly oil a large stainless steel bowl and add my bread dough for the final rise, covering the bowl with a towel.
Set your oven to 450˚degrees.  Then add your 4 quart or larger heavy lidded pots, (I love my 4-quart Lodge cast iron pots that both fit in the oven together so I can bake 2 loaves at once).  Heat them for 30 minutes.
Remove the pots from the oven carefully.  I use my oven gloves that do a great job of protecting my hands.  Take off the lids, add the bread dough, just dump it into the pot, cover again and put it back in the the oven.  Repeat with the other loaf.  Bake for 30 minutes, remove the lids, and bake for 15 minutes more uncovered till it's golden brown and crusty.
Remove the bread from the pots to a cooling rack and allow it to cool for 1 hour before slicing and serving.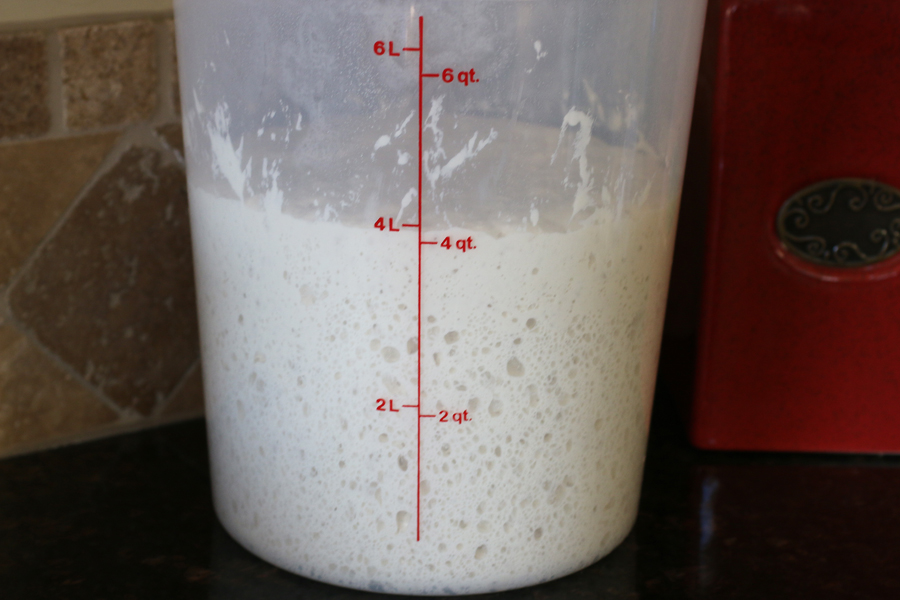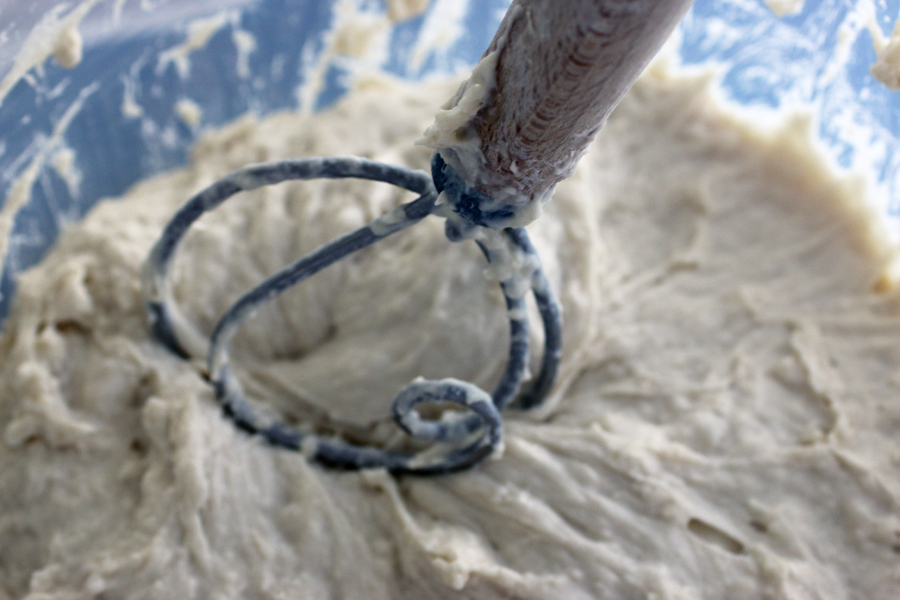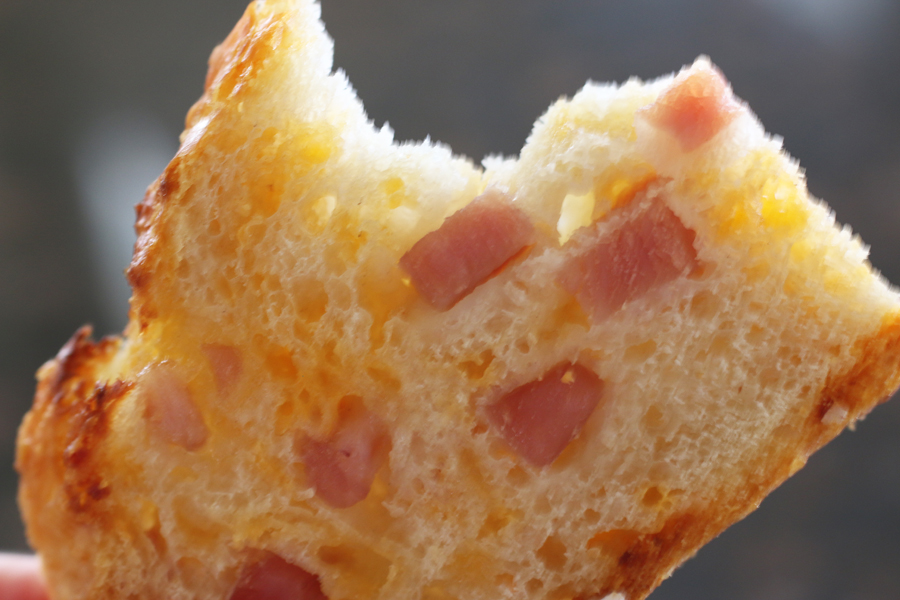 Artisan Ham & Cheese Bread
Simple, rustic, Artisan Ham & Cheese Bread is tender, flavorful, and the easiest, best bread you'll ever make. Friends won't believe you baked it, give it a try!
Ingredients
6 cups all-purpose flour, (plus more for dusting)
3 cups luke-warm water
3 teaspoons kosher salt
2 tsp yeast*
non-stick spray for pot
cornmeal for pot
2 cups sharp cheddar cheese, grated
2 cups fully cooked ham, diced
Instructions
In a large bowl, stir together the flour, salt and yeast.
Add the water and using a Danish whisk or wooden spoon stir together until the mixture resembles a shaggy dough.
Cover dough with a plastic lid or plastic wrap. Don't put the lid on tightly, just set it over the bowl and let sit at room temperature for 8-18 hours. Dough will bubble up and rise.
Add ham and cheese, mix into the dough well and chill the dough.
After dough is ready, preheat oven to 450° degrees.
Turn the dough onto a well-floured surface and with floured hands form the dough into a ball. Add to a lightly oiled stainless steel bowl. Cover with a light towel and let the dough rest.
Spray pan with non-stick spray and sprinkle with cornmeal.
While dough is resting, put your dutch ovens into the preheated oven for 30 minutes.
After the 30 minutes are up carefully remove the dutch oven and dump the bread dough into the hot pan.
Replace the cover and bake for 30 minutes covered. Then remove the cover and bake for an additional 15 minutes uncovered.
The bread slices best if you allow it to cool for 1 hour before cutting into it.
Bread will be golden, crusty and delicious!
Notes
*I used a full teaspoon of yeast because I like the flavor in bread. ½ teaspoon will work as well if you do not!

I like salt a lot- I have added up to 3 teaspoons to this recipe and it's been great!


You may want to only make 1 loaf instead of two. Divide the dough and place half of it in the refrigerator, or simply cut the recipe in half.
Your turn, have you ever made artisan or no-knead bread before?  Tell us about it! Thanks as always for reading and please come back Wednesday to see what Alison is cheering about this week.  I'll be sharing another berry treat you will want to share with your family and friends on Friday.  It will make Saturday morning your best day of the week!  We always look forward to having you here.