Artisan Pumpkin Bread Bowls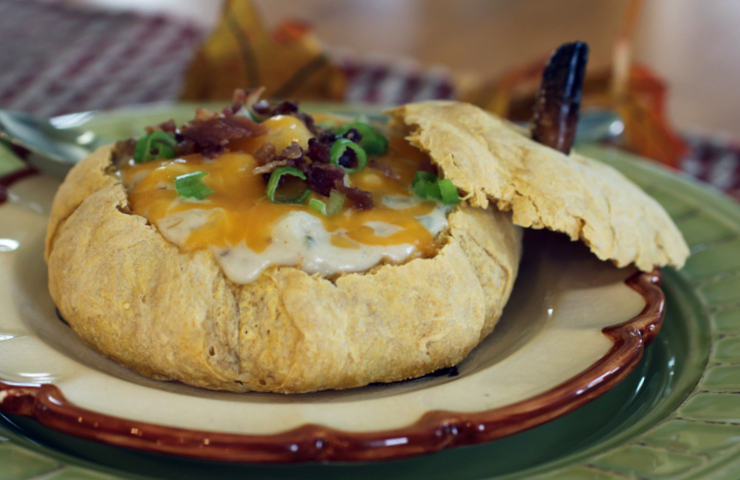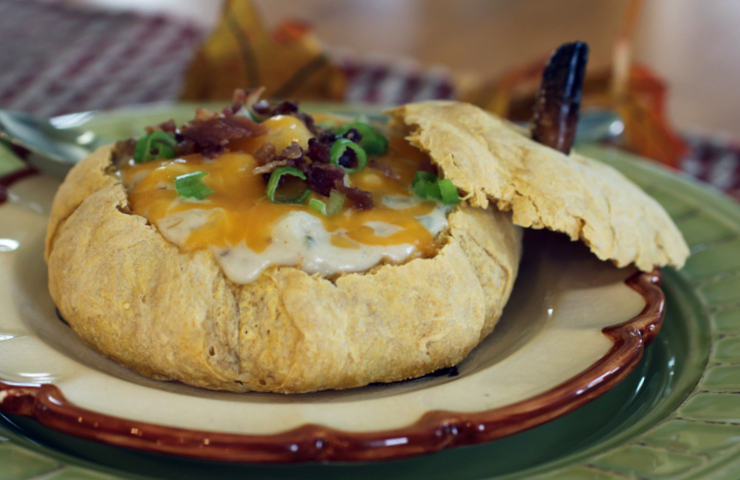 Are you with me on this one?  Does it really matter what's in a bread bowl?  I'm not sure why, there is just something so rustic and romantic about them.  For the Fall holidays, Artisan Pumpkin Bread Bowls add some love to soups, dips, or even filled with eggs for a fun breakfast.
Artisan Pumpkin Bread Bowls
I hosted a little girlfriend luncheon the other day and filled my pumpkins with Loaded Baked Potato Soup, (recipe coming soon), and it was yummy.  All I had to do was toss a pretty salad, and finish with a light dessert, for a smashing success.  Honestly, I wish you could have all been here for the ooohs and aaahs from my friends, "Look at these cute little pumpkin bowls!"
Have you ever made no knead artisan breads before?  It's the easiest bread you'll ever make!  What is so wonderful is that the yeast does all the work.  I use a large food storage container, love these, with pumpkin puree, water, salt, flour, yeast and a little pumpkin pie spice and then, just give it a quick mix with a Danish whisk and leave it out and you will have the most soft, supple, sensual dough you've ever seen!
Now, for a perfectly crusty roll, this recipe will produce a dozen large Artisan Pumpkin Bread Bowls. I tuck the dough under to form a smooth top, and cut little slashes at the bottom so the pumpkins can expand. Then I place them on a greased and cornmeal covered cookie sheet. I like to dust the tops with a little flour and add a fat pretzel stem, although they do get crispy in the oven!
A quarter-size sheet pan with 4 rolls fits perfectly into my toaster size confection oven. I bake them at 425°, (with confection) or 450° in a regular oven, for 16 to 18 minutes. Watch carefully your first time as some ovens vary greatly.
Cut the tops off, the lid of the pumpkin sort of, and then pull the soft bread out with your finger.  Save the bread as it's great to dip in the hot soup.
Fill bowls with creamy hot soup, dip, eggs, or whatever your heart desires.  Serve and give thanks!
Artisan Pumpkin Bread Bowls
Serve Fall dips, soups, or eggs in rustic Artisan Pumpkin Bread Bowls making every day feel like a party.
Recipe type:
Breads and Rolls
Ingredients
1 cup pure pumpkin puree
3 cups warm water
3 teaspoon kosher salt
2 teaspoon instant yeast
¼ teaspoon pumpkin pie spice
6 cups of flour
Instructions
In a large bowl,or food storage container, stir together the flour, salt, pumpkin pie spice and yeast.
Add the pumpkin, water and using a Danish whisk or wooden spoon stir together until the mixture resembles a shaggy dough.
Cover dough with a plastic lid or plastic wrap. Don't put the lid on tightly, just set it over the bowl and let sit at room temperature for 8-18 hours. Dough will bubble up and rise.
After dough is ready, preheat oven to 450° or 425 for a convection oven.
Turn the dough onto a well-floured surface and with floured hands form the dough into a ball. Cover with a light towel and let the dough rest.
Spray pan with non-stick spray and sprinkle with cornmeal.
Divide the dough into 12 pieces and stretch the dough and form into a round smooth ball. Cut little gashes in the sides of the ball if you'd like to give your pumpkins uneven sides. Also add a fat pretzel stem if desired.
Cover and let rest until doubled in size.
Place baking sheet in oven and bake rolls for 16 to 20 minutes, till brown and crusty.
Remove from oven and cool.
Slice the tops or lids off, remove the bread from inside the bread bowl and then fill.
How do you add a little extra to your party?  I love to hear what you do to make a get-together extra special.
Thanks for checking in at the kitchen and here's a pin for you to add to your cheery collection!