Gingerbread House Bundt Cake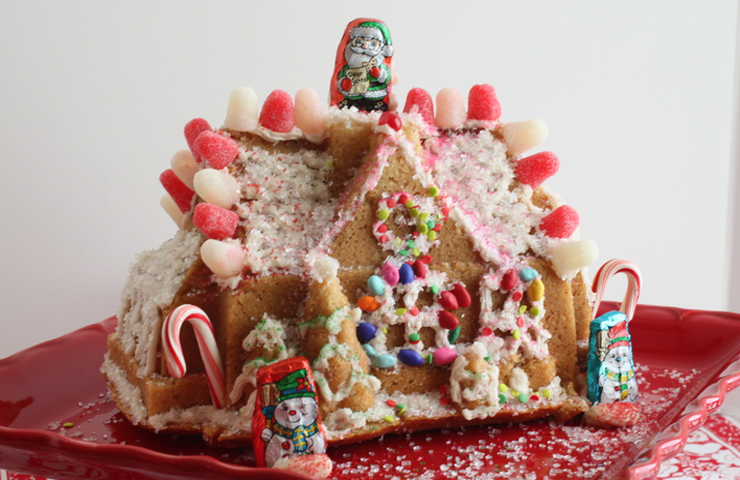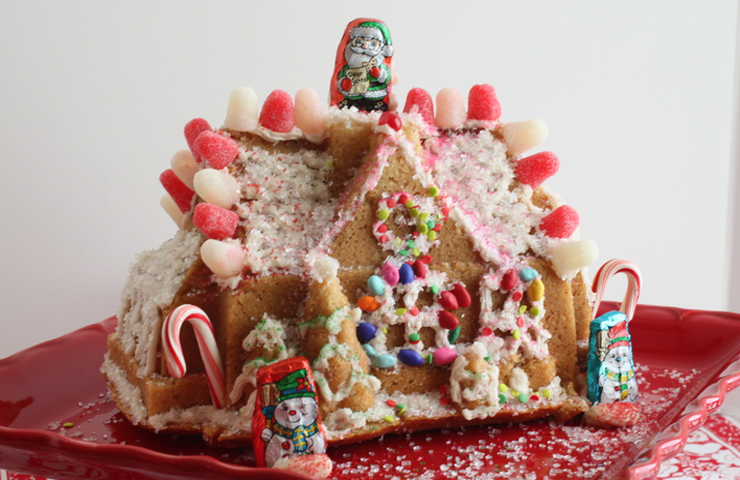 When you think of a bundt cake do you see My Big Fat Greek Wedding in your mind?  Talk about a memory, I definitely picture a traditional, round, bundt cake, with a flowering plant coming out of it's center!  Well meet my prized, Gingerbread House Bundt Cake, with a real live chimney.  I'll never make a cookie-style gingerbread house again.
Gingerbread House Bundt Cake
I admit, I'm completely enamored by this Nordic Ware Gingerbread House Bundt Pan.  After years of making paper patterns, then mixing, rolling, cutting, baking and glueing panels of thick gingerbread together, I'm tired.  Making traditional German gingerbread houses by the hour felt like it took days.  I've also used expensive, (about $10.00 each) gingerbread house kits.    Comparatively, this job, baking a cake and mixing frosting, was a cinch!  No more crying children because of sticky, crashing, crumbling, walls. Best of all, look at how beautiful this little house is, decked out in icing and powdered sugary snow, I'm flat-out in love.
On the packaging that came with the pan, there are directions for how to use the pan, and a recipe for Ginger Cake.  I used their recipe and was somewhat disappointed that the cake came out so light in color.  I wanted it to be darker, the color of gingerbread, like their picture above.  I was also a little worried about how it might come out of the pan.  I washed, dried, and sprayed the pan well with Baker's Joy, (love this stuff and have used it for years), my cake slid out like a dream!
You can use any cake mix or cake recipe, just don't fill it more than 3/4 full to avoid overflow.  I have to tell you, while baking the Ginger Cake, my house smelled heavenly, not a really strong smell, just a light, gingery, holiday, fragrance.  I'll keep you updated as I work on how to get the color just right.
I whipped up the icing and then had 4 of my creative grand-kiddos, (who conveniently were staying with me), decorate it together. Annahlise did all the piping, her first experience and Brigham, Spencer, and Elsie added all the goodies.  They especially liked the Wilton White Sparkling Sugar and candy coated sunflower seeds that looked like Christmas lights!
They had such a great time together and I think our Gingerbread House Cake turned out so Christmasy!  All I did was bake the cake and make the frosting.  They did it all themselves and wanted to make more.  Spence said he wants to make one for a lady he knows who lives alone, "She would be so happy Grandma, if we made one for her!"  So guess what, we will, cause that's what Christmas cheer is all about.
I have two grandsons who can't have any gluten and next time we'll be baking one with a gluten-free cake mix.  I anticipate more smiles all around.
Thanks to MY designers for a fun Saturday afternoon that had a very happy ending.
You guessed it, after taking pictures, we sliced their cheery masterpiece up and ate it.  Why, cause our Gingerbread House Bundt Cake is so easy we can just whip up another one, along with more fun memories.
Oh, about the icing, I'm sharing one decorator icing that really holds gingerbread together after it's dry. It's loaded with shortening and I don't think it tastes good at all. You can make this cake, decorate it and just let it all dry out if you want to use it for a decoration.
However, if you're planning to eat it, I would pipe it with a Cream Cheese Frosting that would hold all the candies on your cake, and is tasty too.  I'm thinking for a crowd, it would be great a top a sheet cake on a dessert buffet table.  Imagine it, all decked out with yummy frosting, sprinkles, and candies.

Gingerbread House Bundt Cake
Simplify your family traditions by baking a Gingerbread House Bundt Cake. It's easy to make and decorate and you should know this icing recipe is not very tasty, but it is like glue however when it's dry, so it's perfect for a decorative gingerbread house you want to display. If you're excited to eat your cake, frost with a delicious cream-cheese frosting and then sprinkle with sparkling sugar.
Ingredients
For Ginger Cake
2-3/4 cups cake flour
2 teaspoons ground ginger
1 teaspoon cinnamon
¼ teaspoon ground cloves
¼ teaspoon nutmeg
1 teaspoon salt
2 teaspoons baking powder
1 cup sugar
⅔ cup brown sugar
1 cup butter, softened
4 eggs
1 teaspoon vanilla
1-1/4 cups milk
For decorator Icing: (that dries hard)
1-1/2 cups shortening
1 egg white
2 teaspoons almond or lemon flavoring
½ teaspoon salt
2-4 Tablespoons hot water
For Cream Cheese Frosting:
¼ cup soft butter
4 ounces soft cream cheese
1 tsp. vanilla extract
2 cups confectioner's sugar
Instructions
For Ginger Cake
Heat oven to 325 degrees
Grease and lightly flour pan; set aside.
In medium bowl, sift together flour, ginger, cinnamon, cloves, nutmeg, salt and baking powder; set aside.
In large bowl, combine sugar, brown sugar and butter. Beat 3 minutes, until light and fluffy, scraping bowl often. Add eggs, one at a time, beating well after each addition. Blend in vanilla.
Reduce mixer speed to low. Blend four mixture into sugar mixture, alternating with milk.
Spoon batter into prepared pan, spreading batter slightly up into the sides of the pan.
Place pan on baking sheet and bake at 55-66 minutes, until toothpick inserted in center comes out clean.
Cool upright in pan for 10 minutes.
Remove from pan onto cooling rack and cool completely.
Cake can be dusted with powdered sugar or decorated with frosting and candies.
For Decorator icing
Mix all ingredients well and use in a decorating bag.
For Cream Cheese Frosting
In a mixing bowl, cream soft butter, cream cheese, and vanilla with beaters. Add confectioner's sugar and beat well. Use in a piping bag.
Notes
The icing makes enough for 2-3 gingerbread houses and freezes well. It is quite soft and creamy. It is easy to use and will keep well if covered.

I love to add vanilla to it, but it adds brown color to it, unless you use the clear n color variety.
I love that one of our favorite family traditions just got easier.  How would you get a more traditional colored cake?  I'd love you suggestions.  Also, do you make gingerbread houses with your family?  Please share any of your treasured traditions in the comments below and because you're loved I made you a pin. Thanks for coming to see our cake.