Chewy Oatmeal Cookies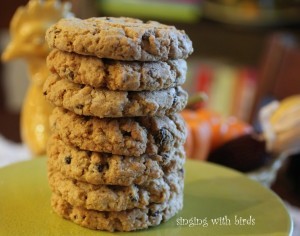 I'm married to a man who is passionate about fresh fruit and ice cream, and Chewy Oatmeal Cookies.
His mom was famous for her 

root beer floats, served in her signature green goblets.  I don't remember a dessert that she ever baked, or a time when her freezer wasn't filled with the best vanilla ice cream she could buy!  Still, I won his heart with my Chewy Oatmeal Cookies! 
Chewy Oatmeal Cookies
Shortly after our marriage I found this chewy oatmeal cookie recipe in a civic club cookbook I was given at a bridal shower.  I like to switch them up
, what I add to them, and make a designer cookie each time I bake them.
You know how some oatmeal cookies are real spicy with nutmeg or cinnamon?  
Well not this one.  My 
cookies depend on whatever you stir in for their flavor.  I can change 'em up and as long as I add the oatmeal and use a big scoop, my man's happy! 
So make Chewy Oatmeal Cookies your own.  Try craisins instead of raisins, dried apricots or dates, white, mint, or butterscotch chips for chocolate.  Go nuts!  Try pecans, or almonds for walnuts; you get it, throw in whatever you've got!

  I've found somebody always likes it…especially my man who I love to bake for!
Chewy Designer Oatmeal Cookies
Enjoy our favorite Oatmeal Cookies that you can add all of your favorite stir-ins to...even the kitchen sink!
Ingredients
1 cup butter, softened
1-1/4 cups packed brown sugar
½ cup white sugar
2 eggs
2 tablespoons milk
2 teaspoons vanilla extract
1-3/4 cups flour
1 teaspoon baking soda
½ teaspoon salt
3 cups rolled oats
1 cup raisins
1 cup chocolate chips
1 cup walnuts, chopped
1 cup finely shredded coconut
Instructions
Preheat oven to 375 degrees.
In a large bowl, cream butter, brown sugar and white sugar until smooth. Beat in the eggs one at a time, then stir in the milk and vanilla. Combine the flour, baking soda, and salt; stir in the sugar mixture until well blended. Stir in the oats, chocolate chips, walnuts and coconut until evenly distributed.
Drop by rounded tablespoons onto ungreased cookie sheet.
Bake 10-12 minutes in the preheated oven for a chew cookie or 14 minutes for a firmer cookie.
Cool for 1 minute on the cookie sheet and then remove to wire rack.
Cool completely and then store in a tightly sealed container.
Enjoy a welcome weekend and bake some beautiful cookies.  Your home will smell so inviting and your family, friends and neighbors will have sweet dreams all week!

Thanks for stopping by all.