Chili-Rubbed Grilled Pork Tenderloin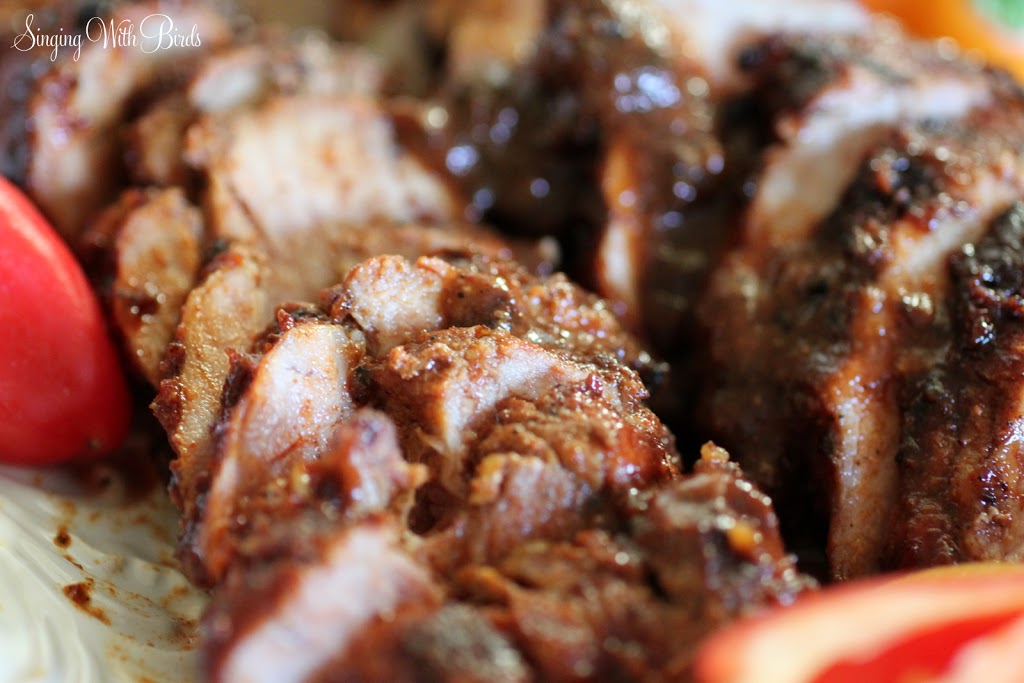 It's all about heat and the thrill of the grill around here in July!
Can you believe we'll be celebrating our country's birthday next Monday?  Along with throwing traditional hot dogs and hamburgers on the grill Chili-Rubbed Grilled Pork Tenderloin will heat up your 4th of July barbeque.  It pairs well with all of your favorite side salads and yummy desserts, a fiery sparkler, that will add a new star to your holiday party.
Mix up the spicy chili-rub…
Trim visible fat from tenderloin and cover with chili rub…
Prepare a batch of Kansas City Barbecue Sauce, (I like to double the recipe) and preheat your grill to medium-high heat.
Grill for about 15 minutes per side and add BBQ sauce in the last couple of minutes.  Remove from heat and let rest for 5 minutes before slicing.
Slice, and plate tenderloins, adding your favorite garnish.
I'm sending best wishes for your happiest holiday ever.  Isn't the 4th just the best?  We are looking forward to time with our family and friends, starting the day at a pancake breakfast and bike parade, time out on the lake, and firing up the grill before fireworks and smores.  I can hardly wait!  Oh, before I forget, serve with lots of extra sauce and enjoy a fabulous time with your loved ones too.
Chili-Rubbed Grilled Pork Tenderloin
Ingredients
Chili-Rubbed Grilled Pork Tenderloin
2 pieces whole pork tenderloin (cleaned with silver skin removed)
2 tablespoon chili powder
2 teaspoon ground cumin
1 teaspoon granulated garlic
½ teaspoon paprika
¼ teaspoon granulated onion
2 teaspoon salt
1 teaspoon ground black pepper
2 tablespoons vegetable oil
2 cups Kansas City Rib Sauce
Kansas City Rib Sauce
1 cup ketchup
¼ cup water
¼ cup vinegar
¼ cup brown sugar
3 tablespoons olive oil
2 tablespoons paprika
1 tablespoon chili powder
2 cloves garlic, minced
1 teaspoon cayenne
Instructions
Preheat grill to medium-high heat.
In a bowl combine above ingredients with the exception of the BBQ sauce.
Rub pork tenderloins liberally with the rub mixture.
Place tenderloins on grill for 15 minutes turning frequently or until it reaches an internal temperature of 140 degrees in the thickest part of the tenderloin. Baste tenderloin liberally with the BBQ sauce in the last minute of the cooking process. Be careful to do so before, or the sauce will caramelize and burn on the grill.
Remove from heat and let rest for five minutes.
Slice tenderloins into ½ inch thick slices.
Serve with extra sauce.
Kansas City Rib Sauce
Heat oil in a saucepan.
Add garlic and sauté until brown.
Add remaining ingredients and reduce heat.
Simmer for 15 minutes until thickened.
Notes
Kansas City Rib Sauce is a rich, thick, tomato based barbecue sauce recipe often associated these days as Kansas City Style. You get that traditional combination of sweet with a touch of heat in a dark and thick tomato sauce. Adjust the heat by changing the amount of cayenne.