Cranberry Pumpkin Cake with Caramel Glaze
I get a thrill when I spy the first bag of fresh cranberries in the produce section each Fall, I am crazy for cranberries!  Cranberry Pumpkin Cake with Caramel Glaze is perfect for those who just love a few.
Cranberry Pumpkin Cake with Caramel Glaze
A "superfood" high in antioxidants, tart and crunchy, cranberries offer more than average health benefits. What I love most about these berries are their attractive bright red color and they can be used in countless ways.  I hope to share more cranberry ideas through the holidays, so be watching!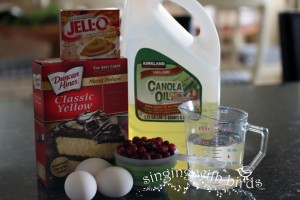 For our traditional Thanksgiving dessert spread, I was inspired by the new "seasonal release"
of Jello's Pumpkin Spice Pudding and Pie Filling.  Cranberry Pumpkin Cake with Caramel Glaze
seemed perfect for those few who aren't big on pies in our family.  Some actually prefer cake and ice cream.
It's fast and easy to make.  Preheat the oven and prepare a 12 cup bundt pan.  Be sure to reserve 1/4 cup of the cake mix in a plastic bag.  Wash and dry your cranberries and then toss them in the bag with the cake mix and coating them well.  This tip helps to keep them from falling to the bottom of the pan.
In a mixing bowl combine the cake mix, pudding mix, eggs, water and oil and beat together for about 2 minutes.  Now gently fold the berries into your batter and pour into your cake pan.  Pop it into the the oven for about 40 to 45 minutes…ovens vary, so watch it carefully.  I always test it with a toothpick.  When the toothpick comes out clean, it's done.  Cool on a wire rack.  While the cake is cooling, you can make the caramel glaze.
Cranberry Pumpkin Cake with Caramel Glaze
Ingredients
Cranberry Pumpkin Cake
1 yellow cake mix
1 (3.4 oz) Jello pumpkin spice instant pudding
1-1/3 cups water
⅓ cup oil
3 large eggs
2 cups fresh cranberries, rinsed and dried
Caramel Glaze:
½ cup butter
2 teaspoons corn syrup
½ cup brown sugar
½ cup whipping cream
Instructions
Preheat oven to 325 degrees for dark or coated pans, or 350 degrees for a metal or glass pan. Reserve ¼ cup of cake mix in a plastic bag.
Mix the remaining cake mix with pudding mix, water, oil and eggs. Beat at medium speed for 2 minutes.
Shake the cranberries in reserved cake mix. Fold berries into the cake batter.
Pour batter into a bundt pan that has been greased and floured well. Bake according to pan type for 38 to 43 minutes, or until a toothpick inserted in center comes out clean.
Cool in pan on a wire rack for 15 minutes. Turn out onto cake plate and cool completely before glazing.
For Caramel Glaze:
Melt butter in a medium saucepan. Add corn syrup and brown sugar.
Stir over medium heat until it comes to a soft boil.
Decrease heat and add cream. Let simmer for about 10 minutes.
Drizzle over cake, allowing the glaze to drip down the sides of the cake.
Notes
Serve with whipped cream or vanilla ice cream.
This cake will freeze well prior to glazing.  Mine is all wrapped up and tucked in the freezer ready for the big day.  What's waiting in yours?
 Happy Baking All!