Roasted Tomatillo Salsa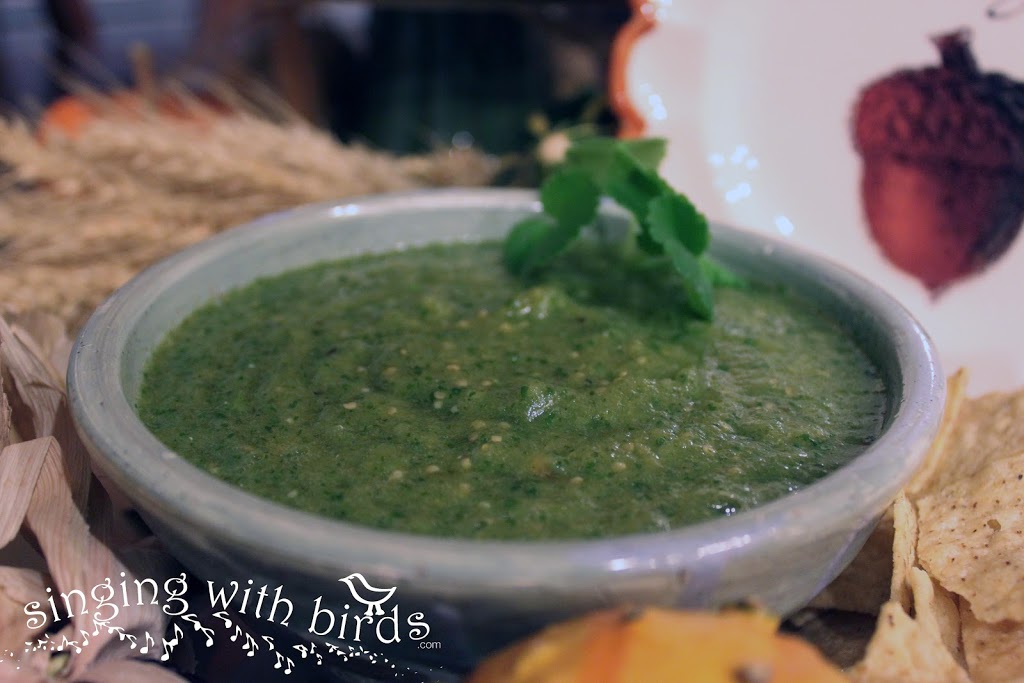 Gobble, Gobble, Gobble….. 
Now please grab your favorite spoon everybody.   It's time to celebrate with Roasted Tomatillo Salsa!
I'm sure the rest of you are cooking cranberries plus baking rolls and pies today as we always do.  I on the other hand have been thinking about one of my all time favorite Thanksgiving Days. 
Roasted Tomatillo Salsa
It was 50 years ago to be exact, when my baby brother, Todd was born.  I was elated and enough older to help care for him.  He's always had a big place in my heart.
He was a true gift to our family.  Now he's got 4 kids of his own and an adorable little granddaughter and recently he's become a gourmet cook.    He makes the best fresh tomatillo salsa you will ever taste.  It's tasty on chips, eggs, burritos, tacos, or just by the spoonful…ask my sister, Kim!
 Fire up your broiler.  Remove the paper husks from the tomatillos. Place on a silpat lined sheet pan.
 Cut the tomatillos in half along with the chilies, garlic and onion and put them under the broiler.
After 5-7 minutes, be sure to watch them, flip them over and broil for another 5-7 minutes.  Puree in the blenderor food processor with cilantro, salt, and sugar.
Chill salsa well.  Oovernight is best for flavors to blend and enjoy. 
As we celebrate Thanksgiving I am grateful for too many things to express.  Faith, family, friends, freedom to worship, and those individuals that lead and defend us, top my list.   I extend heart felt thanks to so many of you who visit and cheer me on!  I enjoy doing the same.
Have a wonderful weekend…and to my favorite turkey who turned 50 today, I still see you running around our pool with our poor mother chasing you with her flyswatter!  Love you Toddie…    

Counting my blessings….one by one.