Grilled Tropical Pork Tenderloin Salad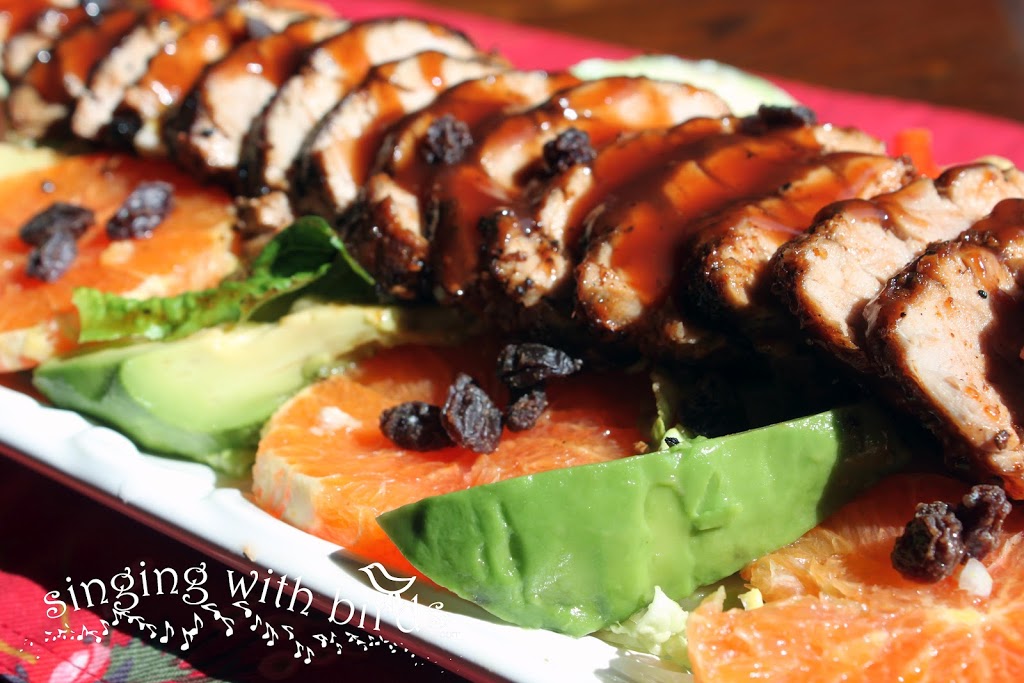 Here's a little somethin'-somethin' to celebrate the unofficial start of Summer.  Grilled Tropical Pork Tenderloin Salad is amazing.  It's grilled pork, sliced on the diagonal and served with oranges, avocados and colorful red peppers is delicious even on a rainy night.
Go ahead, enjoy a little taste of paradise.  Things will be steaming up soon!
Grilled Tropical Pork Tenderloin Salad
We grilled with friends the other night and thought this would be a lovely salad to serve to family and friends.  Yep, it's perfect party food for celebrating the start of summer.
Begin by preheating your grill and rubbing the spices on the pork tenderloin.  We washed and dried spinach, shredded cabbage, and cut up green peppers, then peeled avocados and oranges and sliced them up, love this tool, together while we visited and laughed about the rain, which I never tire of.
Mix up the yummy glazed and whisk the vinaigrette together.

I like to let my grilled pork tenderloin rest for 10 minutes before slicing with my
electric knife
.  Mix spinach, cabbage and peppers together and toss with vinaigrette.  Arrange your tossed greens on a large platter.  Layer with sliced pork and arrange oranges, avocado, along side it.  Sprinkle with raisins and drizzle with the glaze.  Serve and enjoy.