Maple Bacon Peanut Snack Mix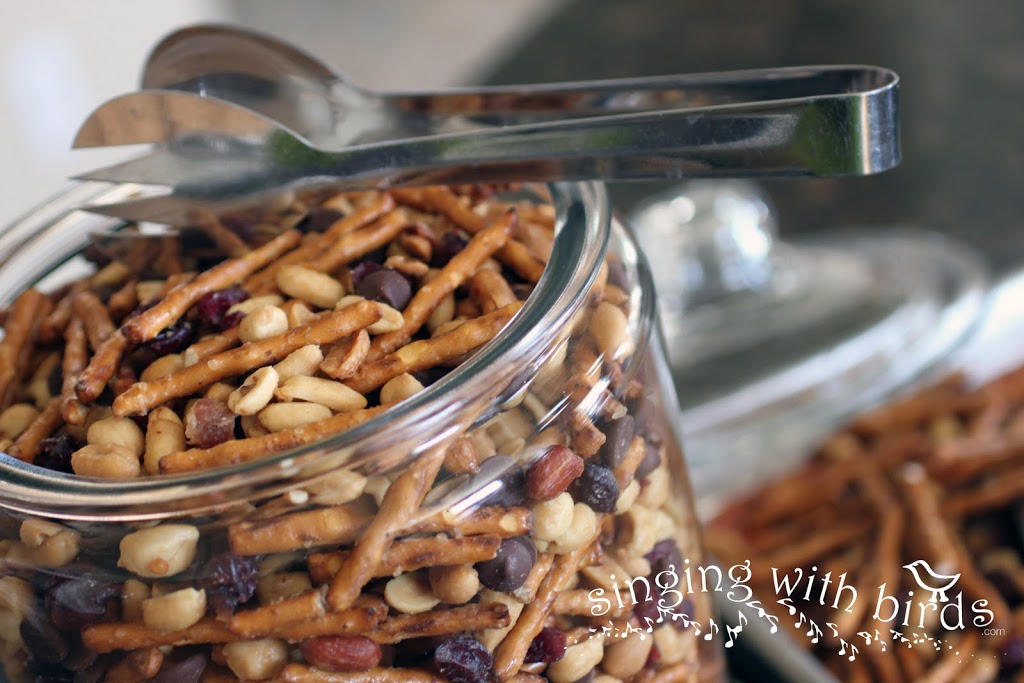 Are you ready for some game-day goodies?  Maple Bacon Peanut Snack Mix is a super, crunchy, munchy, no-fumble kickin' treat. 
Maple Bacon Peanut Snack Mix
scored with my grands, Lincoln, Annahlise and Chase!
Pretzels, peanuts, bacon, cranberries, and milk chocolate chips are covered with sweet maple syrup and a hint of heat. 

I

t's got just the right sweet and salty blend…
and fills a big jar with some to spare!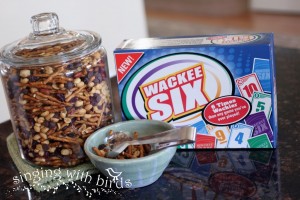 Grab Wackee Six such a fun, fun game, that involves grabbing, screaming, and thinking fast, and plan on a 1st down, making for a great family game day!
Maple Bacon Peanut Snack Mix
Super snack-able, crunchy and munchy. Bake this so good mix that is sweetened with maple syrup and makes a lot for family game time.
Serves:
LOTS, filled my 5 gallon jar!
Ingredients
1 cup pure maple syrup
2 Tablespoons butter, melted
6 cups peanuts
1-1/2 teaspoons crushed red pepper flakes
1 (15 ounce) bag pretzel sticks
2 cups dried cranberries
½ pound bacon, crisp and crumbled
1 (11.5 ounce) package milk chocolate morsels
Instructions
Preheat oven to 350 degrees. Line a 15x10x1" backing pan with foil; set aside. In a large bowl combine maple syrup, butter, peanuts and pepper flakes. Pour onto prepared pan and bake at 350 degrees for 15 minutes, till bubbly. In an extra large bowl combine pretzels, crisp-crumbled bacon, and cranberries. After the peanuts are roasted, gently toss with with the pretzels, bacon and cranberries until all of the ingredients are coated with maple syrup. Spread on two large baking pans and let stand till dry. Add the milk chocolate morsels and store in a large container in a cool spot.
Enjoy unbeatable eatables all!