Tasty Oven Fries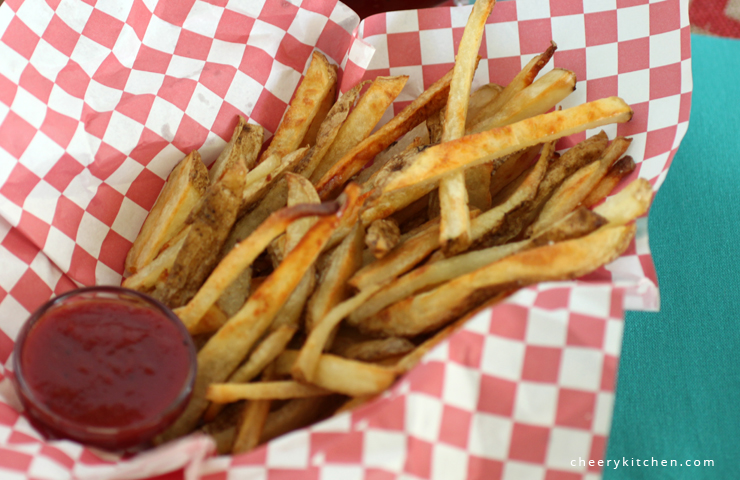 Crispy and crunchy, that's what makes Tasty Oven Fries worth their salt.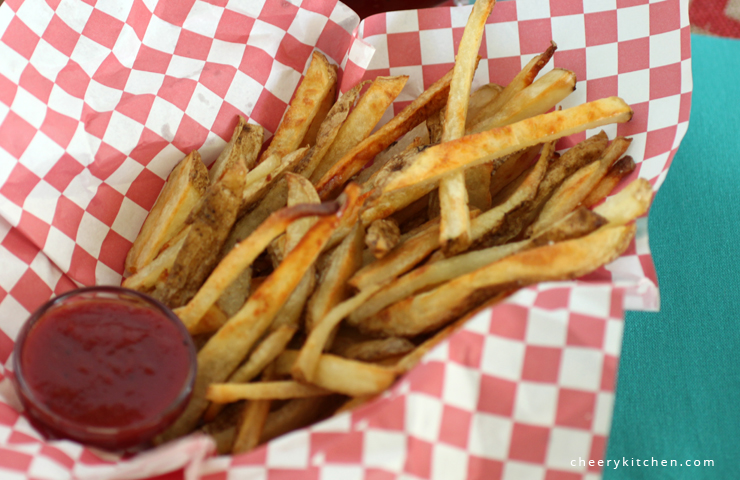 I hardly have a recipe for you, they're truly a no-brainer.  There is however a little method that may help you get the kind of fries you'll crave often, without soaking in ice water and needing a french fry cutter.
Tasty Oven Fries
I've never been a big fan of deep-fat fried foods, a great glazed donut is the only exception.  However, I'm crazy about a crisp on the outside, perfectly baked fry.  Serve it up with Best Homemade Ketchup or some fry sauce for a semi-healthy indulgent treat!
Preheat the oven to 450 degrees.
Start with 3 good-size, Idaho russet potatoes.  It's seriously easy to hand cut your fries.  Just scrub the skins really well, no need to peel, and then cut the potato in half lengthwise.  Slice each half into 3 slices and then just cut thin strips.
I place my Crispy Oven Fries in a mixing bowl and pour 2 tablespoons of olive oil over them.  With clean hands give them a little toss and make sure they are lightly covered.  I place mine on a silpat covered baking sheet, spread them evenly, and then sprinkle with kosher salt.
Bake for 35-45 minutes.  I like to toss mine every 15 minutes and bake them until they are golden brown and crispy.
Tasty Oven Fries
Enjoy some love and Crispy Oven Fries that are healthy and oven baked from Idaho. Make sure to make a batch of my Best Homemade Ketchup for an A+ side or snack!
Ingredients
3 large baking potatoes, cut into ¼-inch-thick matchsticks
2 tablespoons olive oil
Kosher Salt
Instructions
Preheat the oven to 450 degrees.
In a large bowl, toss the potatoes with the oil and ½ teaspoon salt.
Coat a baking sheet with cooking spray and spread the potatoes in a single layer.
Bake until golden and crisp, about 35 minutes.
Remove the fries with a spatula and season with salt.
Nutrition Information
Calories:
280
Carbohydrates:
50 g
You can add a sprinkle of smoky paprika, or any flavor or seasoning you'd like.  What do you like to add and please if you have a different method, share your secret!  Thanks for your visit and please pin and share, and come back for some football food soon.
This site contains affiliate links, which means that I may get a commission if you decide to purchase anything from suggested companies. I recommend products that I use and love myself or that I think would be a helpful resource for you. Using these affiliate links to make your purchase helps to support Cheery Kitchen and my family. Thank you!