May Day Baskets (Kiss & Tell)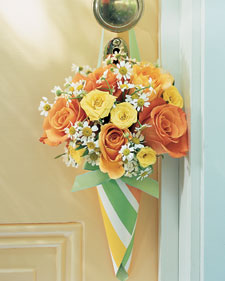 As a child my favorite Spring day was May Day.  It was a big deal at my school where we danced around the maypole and made lattice May Baskets weaving paper in and out.  Now we see these adorable cone baskets, so pretty and easy to make.
To make flower cones, cut medium-weight paper into a 7-inch square. Use decorative scissors to scallop edge and a pencil to form tip. Secure outer flap of cone with craft glue. Punch six holes, 1 inch apart, beginning at top front center; thread 20-inch length of 1/2-inch-wide ribbon through holes. Tie bow at front, and leave a 7-inch loop at the back.
May Baskets are small and usually filled with flowers or treats and left at someone's doorstep. The basket giver would ring the bell and run away. The person receiving the basket would try to catch the fleeing giver. If they caught the person, a kiss was to be exchanged.  No wonder I remember it as such a fun day.
When my blog was fairly new last year, I created
Maypole Cupcakes
, perfect for your May Day Party.  We will be making May Day Baskets, playing a Tisket a Tasket, and serving Maypole Cupcakes this weekend, weather permitting!
We woke to snow-rain early this morning.  I keep thinking, "April showers bring May flowers!"  A return to Spring is forecast for next week.  Hooray…
Happy May Day All!