Maypole Cupcakes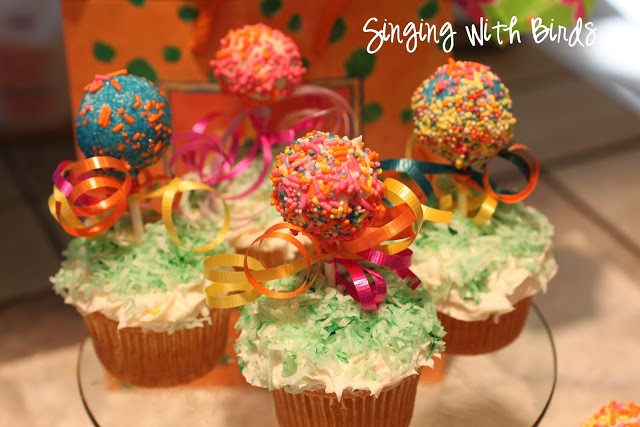 It's almost May Day.  Are you frantic for a fun new treat?
Maypole Cupcakes
Do you remember a special celebration on May Day?  It was a really a big deal at my California elementary school.  Getting ready for the big day, we would all make paper flower wreaths for our heads and our parents were invited to come to school and we danced around a Maypole.  I loved how folky it was!
Maypoles were simply a part of the general rejoicing at the return of summer, and the growth of new vegetation in European countries.  I embrace my Danish heritage and love of the arts, especially World Dance.  Living in Idaho, (Eastern Idaho especially), the return of Spring has always been a reason to rejoice and celebrate, thus my nod to May Day celebrations and Spring, Maypole Cupcakes.
Begin by baking a batch of 24 cupcakes and while they are cooling make your "Maypoles."
them with your favorite icing.  I used cream cheese frosting:
Cream-Cheese Frosting: 12 ounces cream cheese, at room temperature, 4 cups powdered sugar, 1 1/2 tsp. vanilla, 2 Tbsp. fresh lemon juice. Cream the cheese and butter together. Slowly add the powdered sugar and fully incorporate it, (no lumps) about 4 minutes. Add the vanilla and lemon juice and mix well.
tint 1 cup of fancy flake coconut (sweetened), with green food coloring.  Just add your coconut to a ziptop bag and then add a few drops of food coloring.  Now close the top of the bag and work the coconut around until it's fairly evenly colored.  Open the bag and  sprinkle coconut on your frosted cupcakes.
Now for the fun part…
(I like the Ghirardelli Chocolate brand.) I melt it in my microwave, checking and stirring it every 15 seconds. Overheating it will dry it out and it will become too thick. So watch it carefully….
Dip tootsie-pops once, twice,maybe three time's the charm. Just so the tootsie pop is well covered with the chocolate coating. I used a piece of oasis to hold my pops while they dried. Just after the last dip, cover with jimmies and sprinkles of your choice.
Now while your coated pops are sitting in your piece of oasis, carefully tie some curling ribbon around the top of your sticks and with scissors, give them a gentle curl. Poke them into your prepared cupcakes and….
you'll feel like celebrating with your  MAYPOLE CUPCAKES!