Mexican Pickled Carrots
What South of the Border specialty is sought after at your house?  We love it all, salsa, guacamole, but my, "gotta' have 'em NOW," prized treat is Mexican Pickled Carrots!
These quick-pickled carrots are served as a condiment, at taco stands all over Central Mexico and I even find them at local taco shops.  The problem is, they are almost always gone, so I know I'm not the only one who craves these babies!
Mexican Pickled Carrots
What really sets Mexican Pickled Carrots apart is flavored rice vinegar.  If you're not a fan, just use white or cider vinegar, it's cheaper.  I like cider vinegar almost as well, but the rice vinegar just makes them extra flavorful and delicious.
You may have young carrots to harvest in your garden…do it!  I like to buy the big bags of organic carrots from Costco.  They are awesome and priced right.  Also, right now produce prices are great everywhere thanks to local Farmer's Markets.  I love to visit mine and support those folks.  Look for red onions, fresh thyme, and hot peppers too while you're shopping.
Wash and peel carrots, (although peeling is really optional), and slice them up.  I know most places cut carrots on the diagonal, but I really like sticks, cause they are great for snacking or on the side.  If you want to add them to tacos, cutting rounds is probably best.  Slice up your onions and peppers, and seed the peppers, if you're a pansy like me.  Please remember to where rubber cloves when handling hot peppers.
In a 3 quart saucepan, combine the vinegar, salt, sugar, thyme, bay leaf, and water together and bring it to a boil.  Add the prepared carrots, onion, and peppers to the brine, cover and bring it back to a boil. Remove immediately to large mixing bowl to cool if you like it to have some crunch.  I don't like them completely raw or cooked.  I like a tender crisp carrot and this method does a great job of that.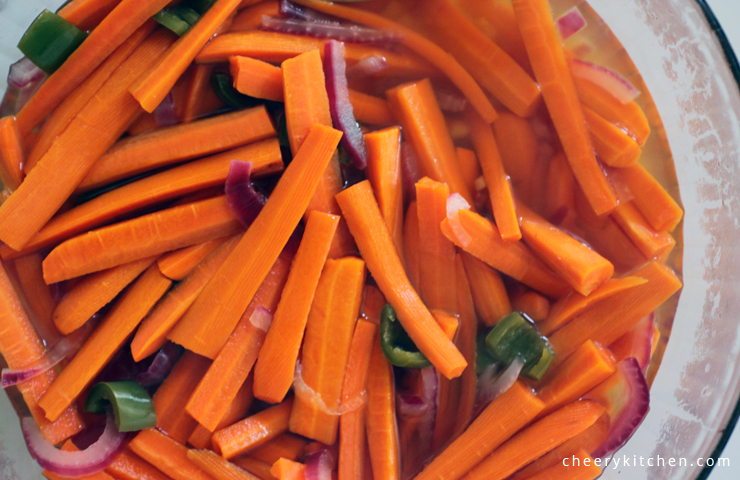 If you like your carrots raw, pour the boiling brine over the vegetables in a large bowl, let them cool and place them in a container in the refrigerator.  If you like them soft and cooked, leave them in the brine on your stovetop until they are to your liking, cool and then refrigerate.
This recipe makes enough for at least a dozen tacos and fills a quart jar.  I always double or triple the recipe, cause they are gone in a flash if I don't!  Mexican Pickled Carrots will keep well for up to 2 weeks in the refrigerator.

Mexican Pickled Carrots
Are you dreaming of Mexican Pickled Carrots like the ones served in taco shops all over Central Mexico? You'll want to make a double batch with all the sweet carrots that will soon be ready for garden harvest for daily nibbling or a late summer fiesta...enjoy!
Ingredients
⅔ cup rice wine vinegar
1 cup water
1 bay leaf
1 sprig fresh thyme
1 teaspoon sugar
½ teaspoon salt
4 cups carrots, peeled and cut into matchsticks
½ small red onion, thinly sliced
2 hot peppers, (I use jalapeños), sliced into thin rings,
Instructions
Combine the vinegar, water, bay leaf, thyme and sugar in a 3-qt. saucepan, and bring to a simmer.
Place the carrots, onion and jalapeños into the saucepan, cover and bring back to a boil. Watch carefully as this happens quickly. Pour vegetables and brine into a bowl.
Cool to room temperature, and pour into a glass jar with a tight-fitting lid.
The pickles will keep for up to two weeks in the refrigerator.
Notes
Any salt will work well. You don't need to use pickling salt.
Use serrano peppers for a hotter pickle.
What's your favorite item to pickle?  How do you use it and let me know if you'd like to share your recipe on here.  It's always great to have you visit my Cheery Kitchen, thanks.
Please follow me on Pinterest and pin away!
This site contains affiliate links, which means that I may get a commission if you decide to purchase anything from suggested companies. I recommend products that I use and love myself or that I think would be a helpful resource for you. Using these affiliate links to make your purchase helps to support Cheery Kitchen and my family. Thank you!